RIZIN Weekend Fight Diary
My divorce proceedings will commence shortly, but great fights...
For Subscribers: you're getting this email a day or so earlier than usual, but this will be the only delivery for the week. For non-Subscribers, please subscribe!
How'd you guys sleep?
—Art Selwyn, Cocoon: The Return
Jeezus, I'm starting this up Sunday morning August 9th at 8AM JST and will go through the end of tomorrow's second RIZIN event (Monday's a holiday, Mountain Day, in Japan). The UFC prelims are on now and I'm making coffee and setting up my various streams and monitors so I can follow the We Are Rizin Twitch commentary, twit my tweets, write my fight diary, and watch the fights. I spent yesterday watching Bellator 243, my beloved Tokyo Yakult Swallows (baseball), and playing in my semi-weekly D&D game, so undoubtedly my wife will leave me before long. But ah well, Fight Prose lives on.
Just briefly on yesterday's Bellator, I turned it on just a minute before Valerie Loureda finished the fight so I didn't see the first round, but it was a very nice finish. Props to her. AJ Agazarm sucks, and is also a bad MMA fighter. I never need to see that dude again. Adam Borics has a second career starring in low budget Hong Kong action movies (or maybe Indonesian these days).
We got the trademark weird Bellator Heavyweight result, but Tim Johnson has looked good lately (not his figure), so props to him as well. Finally the main event with Michael Chandler vs Benson Henderson: man, I thought Bendo was looking sharp and connecting with some great body shots and then bam, he was done.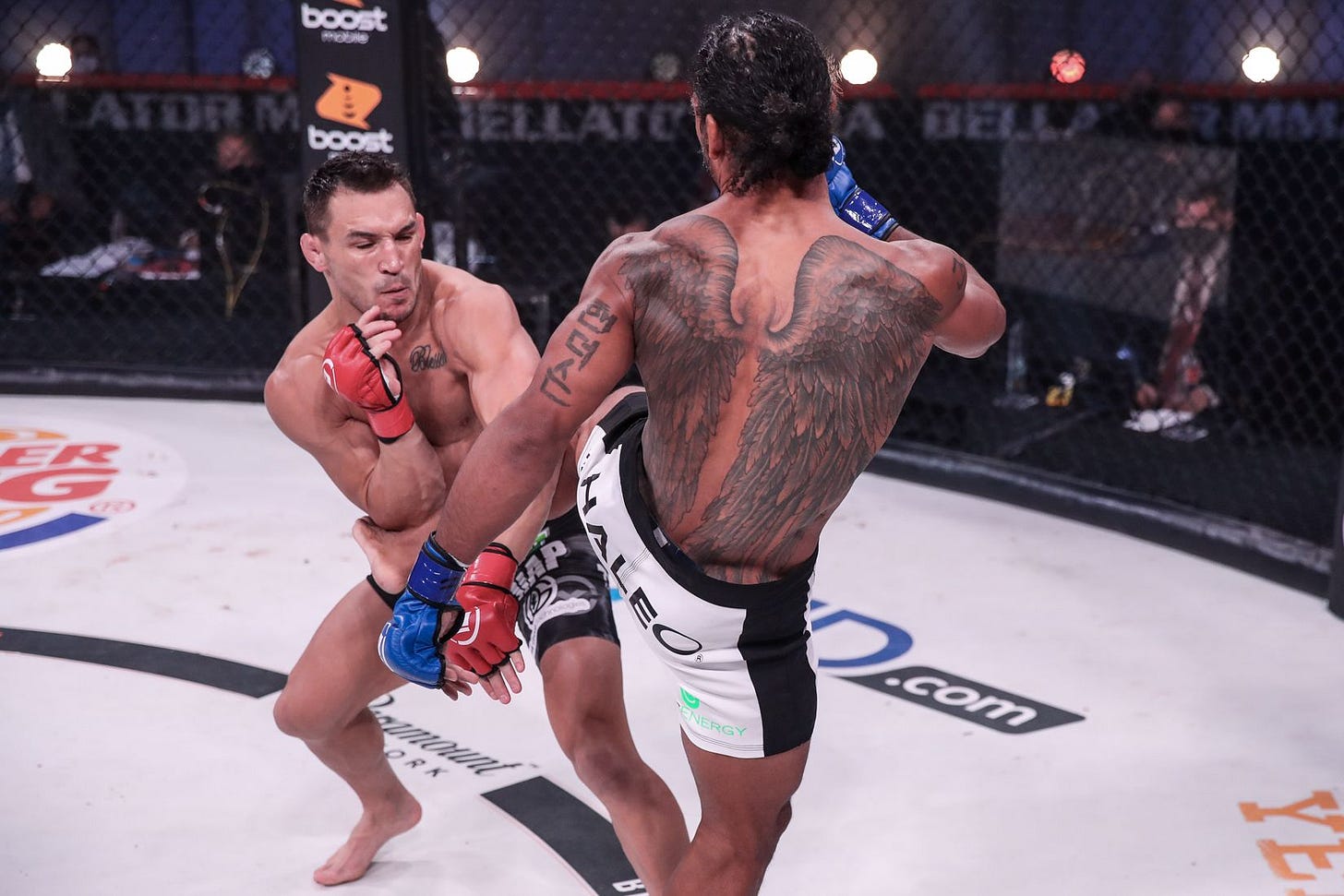 As far as Chandler's future I tweeted this in reference to ONE and an Eddie Alvarez rubber match. (I think Chandler beats Eddie pretty easily at this point, and think he'd have a good chance to be the ONE lightweight champ - I'm generally conflicted about Christian Lee; Dagy and Tim Nasty might be fun fights for him.)

I'd prefer to see what he could do in the UFC, but he's towards the end of his career regardless. Otherwise, the D&D game was good – pretty epic fight with a massive sea serpent, and the Swallows lost 4-5 to the BayStars.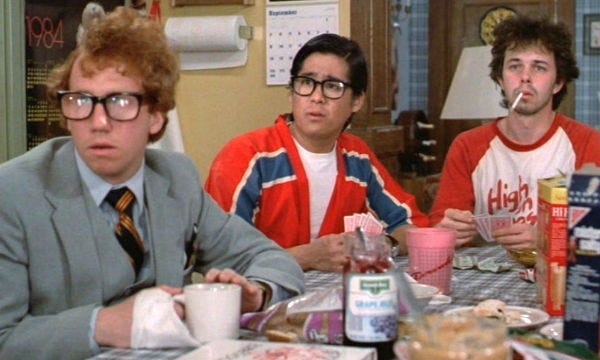 Alright, so main card of UFC is going now. Is there a more overrated fighter in the UFC than Derrick Lewis? Yes, probably, definitely. But that he'll never get a sniff of a belt is a virtual guarantee; he's not competitive with the elite (not that it really matters to get a title shot in the UFC I guess). But before the lackluster HW tilt, we have a series of really high quality fighters that are (for the most part) utterly indistinguishable from one another, because we never have the time to establish any narrative for them with the endless succession of UFC events and corporate sheen that (generally) sands over any distinctions or uniqueness. And Chris Weidman.
Okay, okay, that was a sweet finish from Derrick Lewis, who does have personality, and may well be improving, as is possible for older HWs - I was speaking generally.
Starting Over
It's around 11AM JST and the RIZIN live site appears to be up and we have some of the fighters warming up. I spy Yusuke, Hamasaki, Inoue, and Asakura.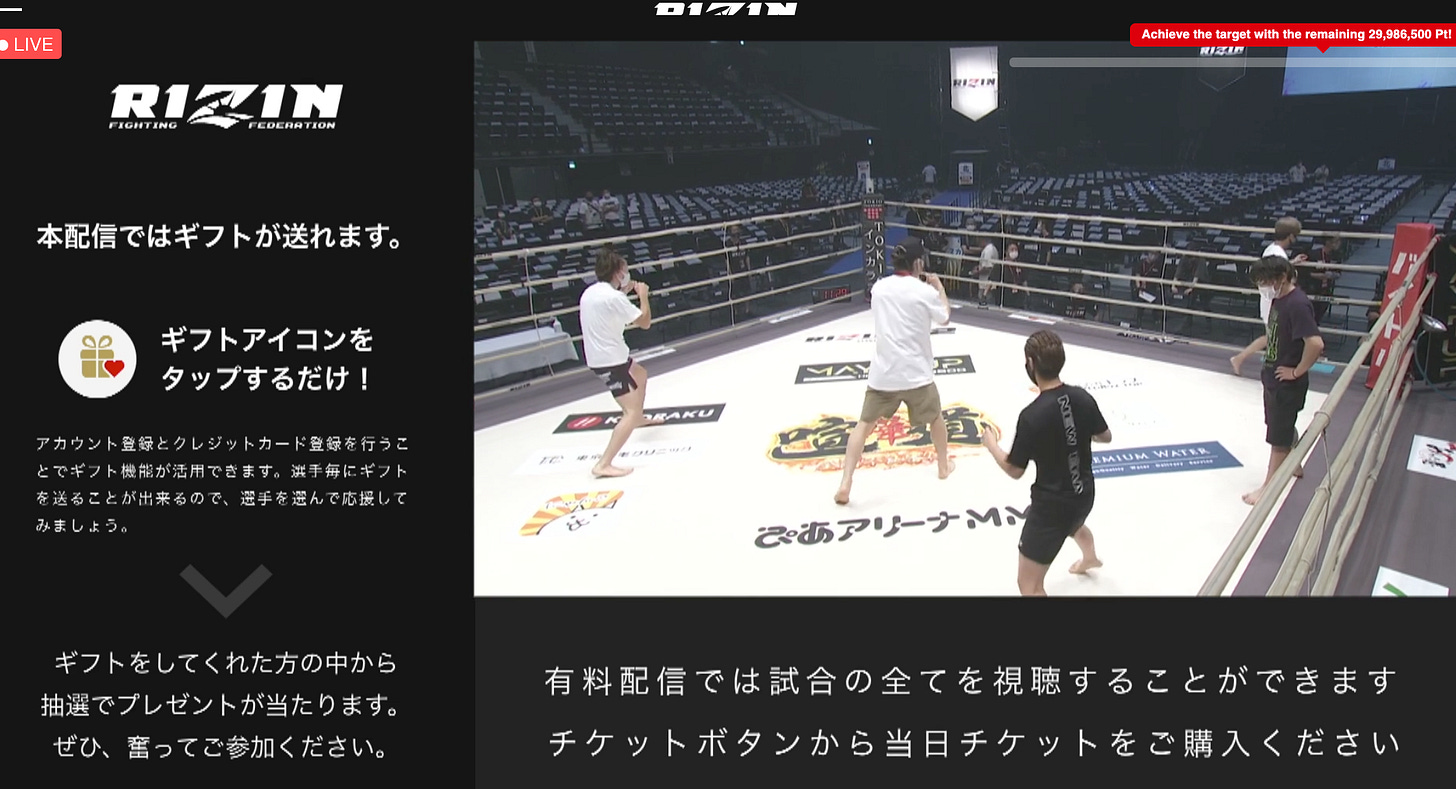 1PM and it seems like they are kind of starting up here, introducing the commentators, etc. Stream looks good. Alright, I think I'm set up and good to go!
Almost 2PM and place looks empty. I thought about going, but the tickets, much like the livestream, are totally overpriced. Erson is not the super big draw for the early crowd, but usually RIZIN shows fill for the Opening Ceremonies. Now we're seeing the 20 new RIZIN girls they just hired when they have one guy on staff who speaks English and like zero international marketing department.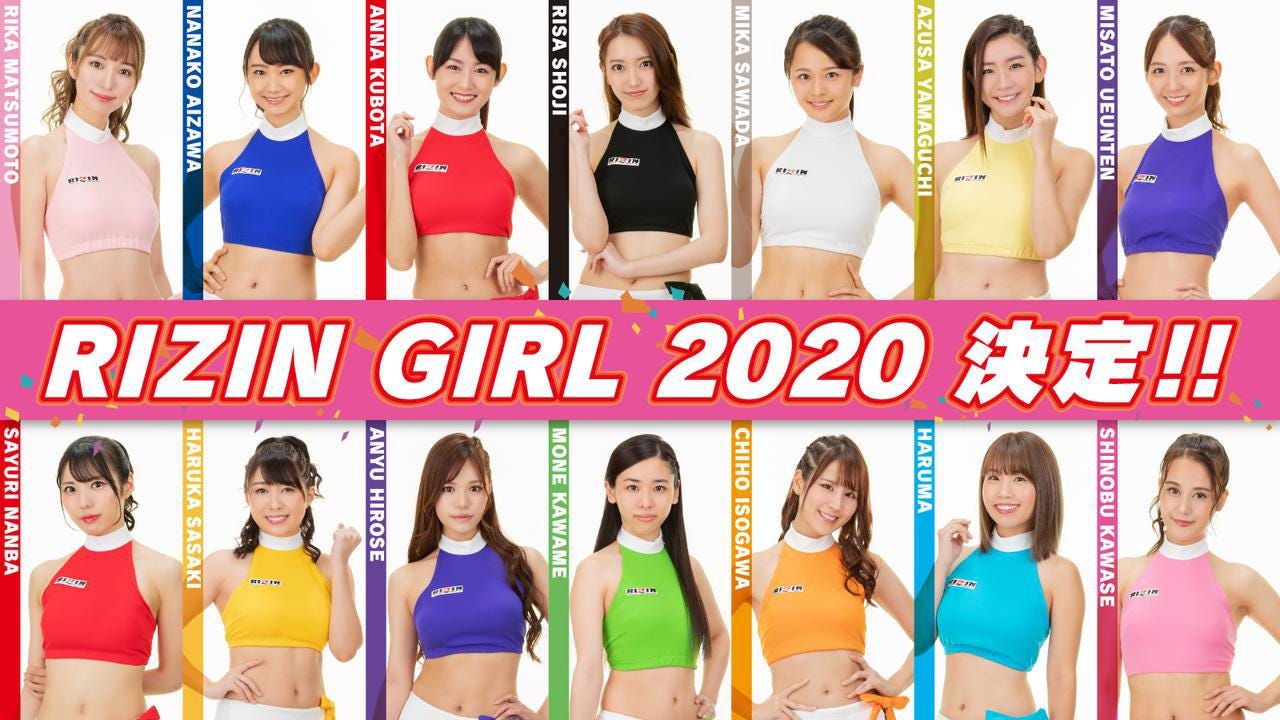 The names of all the hundreds of fans who supported the crowdfunding scroll down the screen and now the music's going and I can't help but be stoked that RIZIN's back. I'm getting goosebumps sitting here watching the opening walkouts on my computer. It's really unreal to be there in person. UFC just doesn't do this. I was annoyed with them all week for the pricing on this event, but RIZIN never die!
First up is the fruit of beautiful Miyuu Yamamoto, her son Erson Yamamoto, against Kenji Kato. I picked Kato before and based on the walkouts I'm feeling comfortable. It looks like Kato has the quick victory with some nasty elbows in the corner, but Erson survives until he doesn't. Okay, that was expected.
A couple of shall we say, lesser fighters, for the next fight, but that doesn't mean it won't be a fun one. With fight-mensa-candidate Mikuru Asakura in Shirakawa's corner, you have to favor his gameplan at least. First round they are both throwing hard and connecting but no finish and Shirakawa is the superior grappler and may have landed the harder punches. Kyohei Hagiwara goes for a rolling thunder with seconds remaining. Hagiwara connects with a jumping knee early in the second but gets taken down in the exchange. Hagiwara didn't get any shine coming into this fight but he's doing well for himself and Shirakawa's breathing heavily. Another crazy ground kick maneuver to finish the round. Weird stoppage in the third but Hagiwara deserved the decision and gets the win. I missed that pick, but they had him listed as 0-2 before, and then 2-2 tonight, so I had bad information!    
Next one is my upset pick with Tetsuya Seki vs Kouya Kanda. I feel like I'm probably wrong but we're about to find out. Kanda looks super weird and nervous walking out or like he's on some peculiar drugs. Definitely not feeling confident. Also starting to get some weird jumps in the stream. Kanda comes out quickly and gets the takedown and is going for some interesting submissions. On the feet however Kanda's striking definitely leaves something to be desired and that is ultimately what finishes him as he can't secure a takedown, gets tired, and gets beat up until the ref calls it. Had that been a one rounder, I would have had my upset pick. Ah well.
Next up is the 12-year old kickboxers. People are really stoked about this fight however so I'm curious to see what happens. Yuushin is walking out to the Red Hot Chili Peppers so I'm automatically not a fan – I met Anthony Kiedis one time like 15-years ago and he was a dick to me and I've never gotten over it. Tenshin Nasukawa is on the commentary for this one looking like a suburban housewife.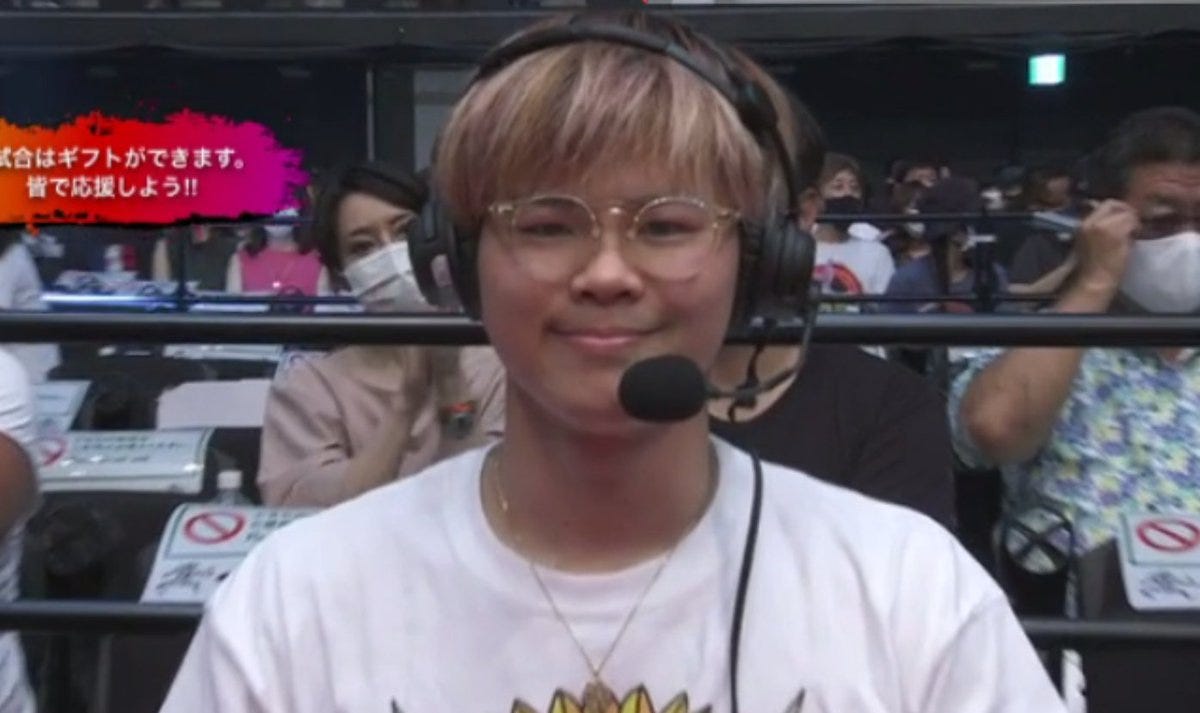 Yoshinari Nakada ends up just stomping Yuushin for two rounds until the ref mercifully stops it. He looks like one to watch and despite the youth seems to be a mean sonofabitch.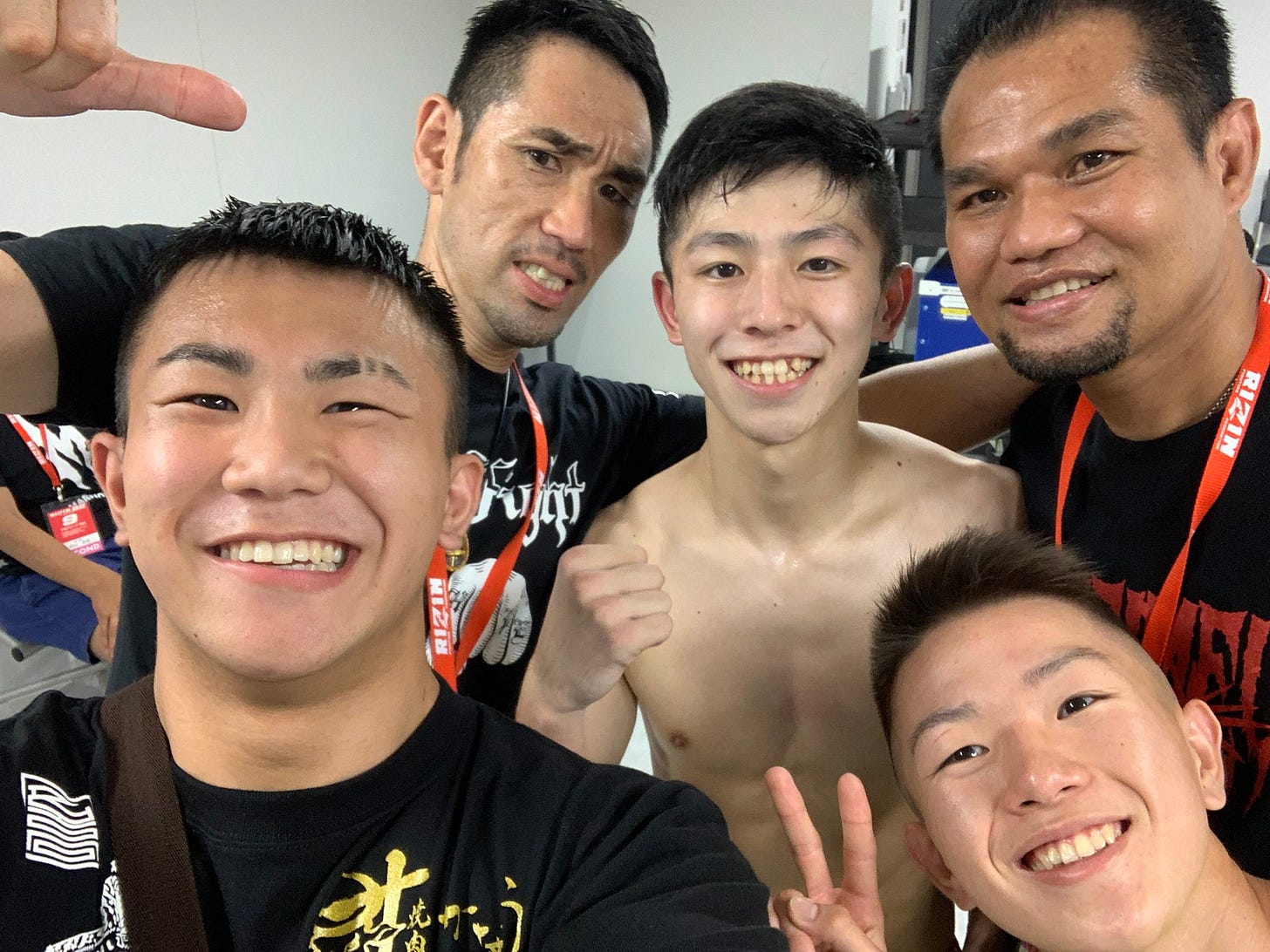 Now we have adult kickboxers with Rui Ebata vs Seiki Ueyama. I'm looking forward to this fight simply because Ebata is supposed to be really good but just got his ass beat by Tenshin the one time I saw him; I'm hoping to see more. But before that it seems like we have a little mini intermission as we move from the free portion to the paid portion of the card and my "technical difficulties" begin… This is now what I'm watching for some reason…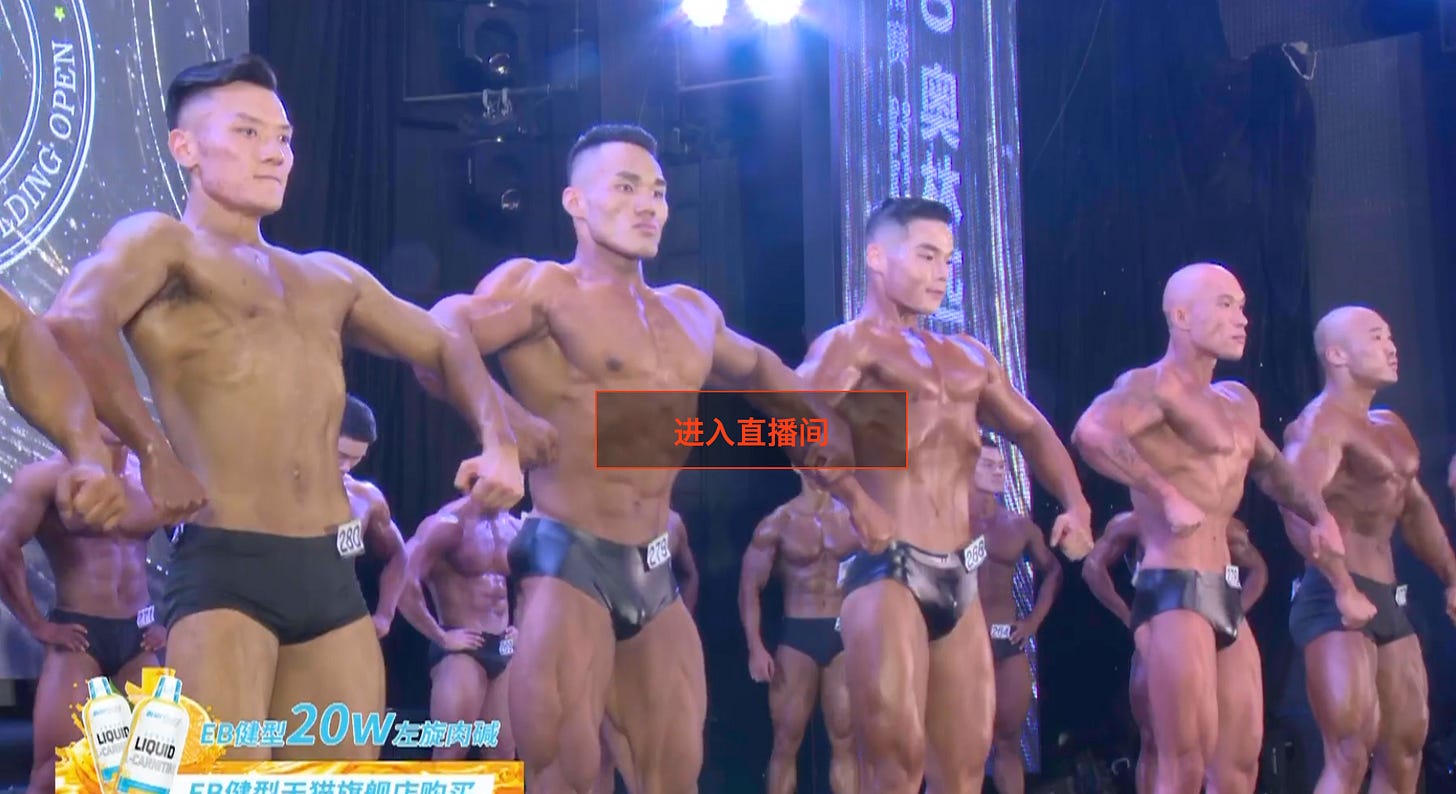 Okay, having some problems… it seems like Ebata put up an impressive UD win in a hard-fought contest. I've got to get off Twitter now because my timing is getting all fucked up and the fights are getting spoiled, such as Naoki Inoue by RNC in the first. Alright, wow, now that I see the fight, it was an emphatic victory and a big win for Inoue.  
Lastly, we get to the big guns on the card with Kanna Asakura, Ayaka Hamasaki, and Yusuke Yachi, who are all RIZIN stars more or less. I get another fight spoiled, but I knew the result of this one last week: Kanna in round one. Ayaka is likely the same. The only real mystery left on the card being the last fight.
Yup, Kanna whipped that girl's ass, even as she hits like a mouse. Her first stoppage by strikes I think, normally she would go for submissions, so that's something new. For the next fight, both fighters start by swinging wildly and Hamasaki gets hit a couple of times. She doesn't appear to even be trying for a takedown and against a sharper striker would have some problems. She finally goes for the takedown in the last minute of the first round and threatens with a few submission attempts. In the second the takedown comes in the first thirty seconds. She gets the kimura shortly thereafter. I get it pointed out to me on Twitter that Hamasaki survived Seo Hee Ham who is definitely a sharper striker and I say fair point.

So last up for the main event it's my boys Roberto and Yusuke. Roberto throws some wild looping hooks to start and then just goes on a wild rampage and beats the piss out of poor Yachi! Jesus, that was destruction. Takedown to G&P to a couple RNC attempts to more G&P. Fuck. He's a dangerous man. Wow.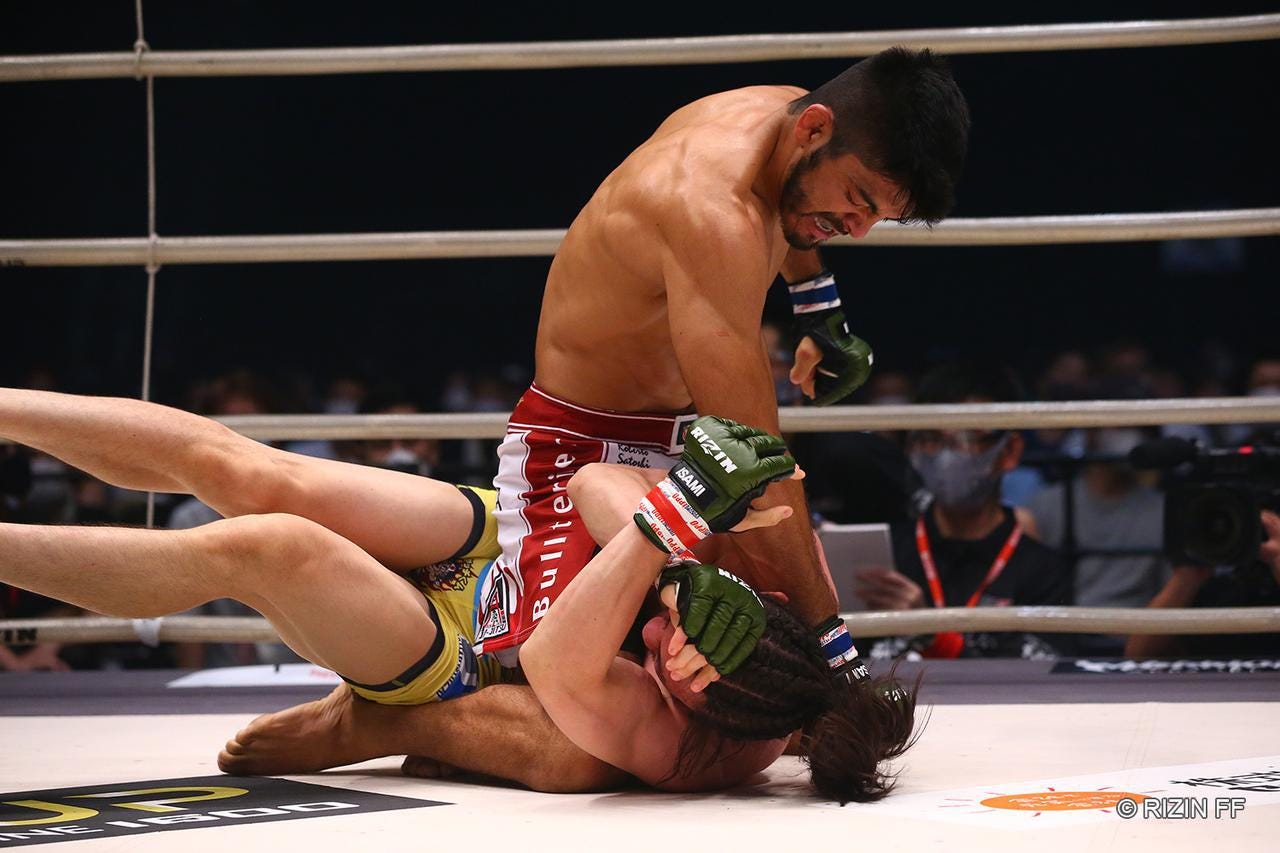 That does it for RIZIN 22. I was a not-great 6-3 on my picks, and we had some technical/monetary issues, but it was awesome to have RIZIN back. It always just feels more special than your average UFC event. See you in 18 hours or so for RIZIN 23. Otsukaresamadeshita!  
---
Calling Over
No UFC or Bellator this morning, so I can do something else with my time other than watch MMA. I should go for a run or something but it's too fucking hot outside. Ah well, guess I can find some exercise on youtube…
Nice, got my pump for the day. Thanks Jesse.
12PM and RIZIN live is up and running. Our illustrious headliner Kai Asakura in the ring getting a warm-up.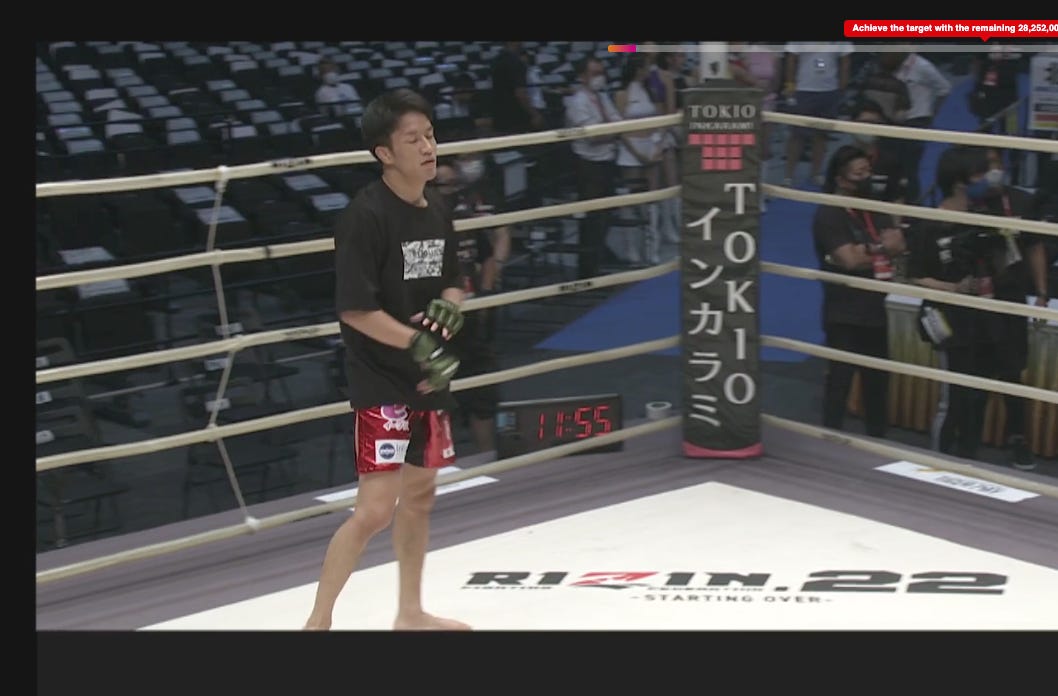 12:20 On the RIZIN live right now Jae Hoon Moon and Kai Asakura having an absolute war from the 2018 NYE show. Kai looking super hittable in this fight as I'm sure Hiromasa Ougikubo is aware. The fight was a rematch of Kai's sole loss (apart from his recent fight with Manel Kape at the recent NYE show).  
12:45 Now on RIZIN live is the epic fight between Ougikubo and Shintaro Ishiwatari. This crazy battle was also part of the 2019 NYE show. These two, Kai, and Kyoji Horiguchi are the top of the insane RIZIN bantamweight division now that Kape moved to the UFC. Naoki Inoue, who had a very impressive victory yesterday, called out Ishiwatari after his fight, but I guess he's injured so not sure what that was about. There's also Yuki Motoya who we will see later.  
1PM It seems like the old fights are over and they're now introducing the commentators, etc. T-minus 1 hour!
2:05 And off we go! Same video as yesterday to start, showing the RIZIN fighters out and about in the community, but hey, it was a good video. Now for the opening ceremonies. Let's see if I get chills again… It's a minor chill compared to yesterday, but a chill nonetheless. Oh, bigger chill followed. Fighters plugging up their ears to lessen the pyro explosions. Caposa doesn't approve.
We start off with some kickboxing and Shintaro Matsukura vs Koji Mori. Mori looks a bit hefty walking out; I guess maybe it was a baggy t-shirt. More Caposa.
Mori's going to the body early and Matsukara responding with some hard kicks, and then a combination puts Mori down and again and Mori is out. The above tweet proved very correct. Next up Yusaku Nakamura takes on Tatsuki Saomoto in MMA. Saomoto is walking out with some young and rebellious rock and roll music. Kids these days. Nakamura sprints out in his gi and is goofing around. He seems loose and ready. Big age difference in this one; the youngster Saomoto clearly wants this on the ground as Nakamura is touching him up on the feet. Be careful what you wish for however as Saomoto lands an overhand left right on the mark and puts Nakamura away.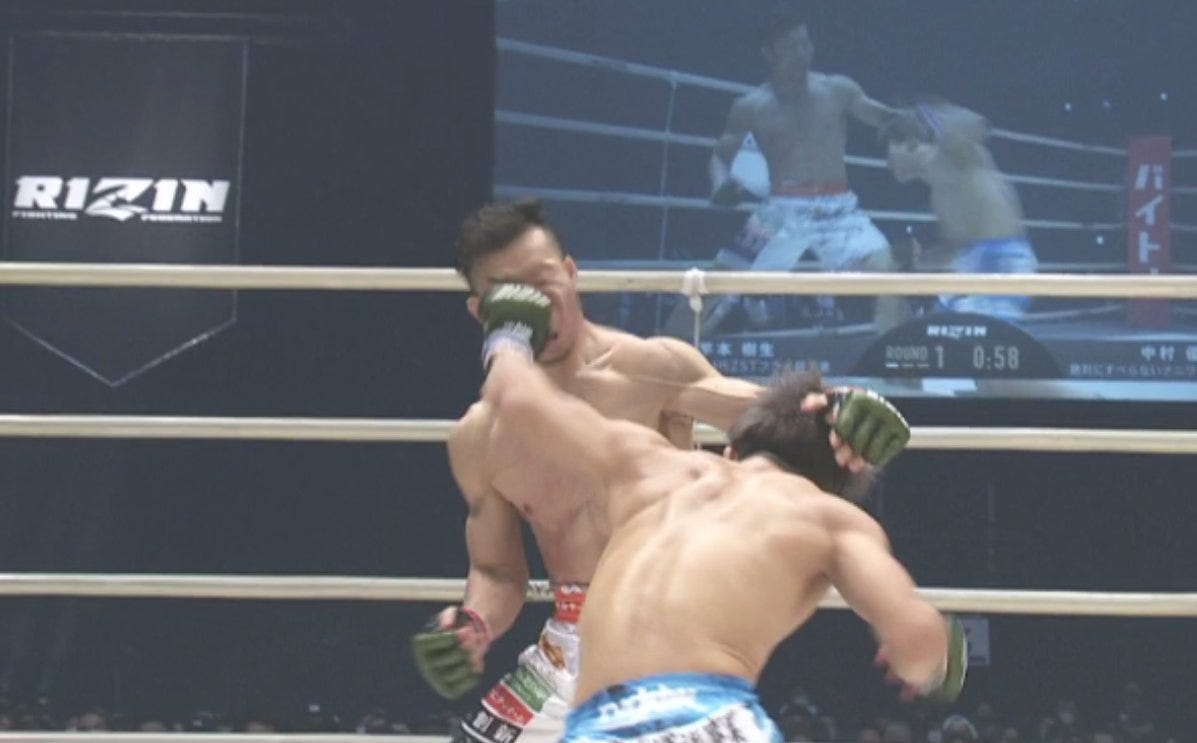 Another kickboxing match here with Kaito vs Daryl Lokoku. Kaito, who looks like he belongs in an anime, is up against the Japan-based Congolese fighter Lokoku, who is sporting a Straight Outta Compton looking t-shirt. Listen to some Eazy-E.
In the first round Kaito is picking apart Lokoku with leg kicks as Lokoku takes big cuts and sort of lands a couple times. For some reason Kaito lays off Lokoku's legs in the second and the latter wobbles him a couple of times. Pretty even third and we go to the judges for I imagine a Kaito win. Yup.
Now MMA between Seichiro Ito and Makoto Shinryu, the latter of whom walks out like a robot Roman soldier or something. I'm reminded now he had a cool walkout at Bellator Japan too, but I'll have to look through my old pictures… It's the same outfit and another example of my memory problems.
They tie up instantly to start the fight and Shinryu dumps Ito a couple times before taking his back, where he remains looking for chokes until Ito manages to reverse it. Fun round I would give to Shinryu. The second round was really great and I was very intently watching it and then just an insane last ten seconds or so from Makoto Shinryu to get the guillotine finish.
But even before that was incredible as he reversed the takedown and got off the ground. Kid's for real.
I'm reminiscing about the Bellator Japan show I saw this kid on, which of course was headlined (mid-card for TV in the U.S.) with Rampage vs Fedor, which was terrible, but it was awesome to see the two of them walk out.
Next up is a weird fight with like a 20-year age difference between Killer Bee patriarch-ish Kotetsu Boku and Jin Aoi, and I'm going to make some coffee with my Kaldi Richy Blendo.
Okay, so I came back a little late. Round 3 and it seems like the youngster's in control. Aoi with the UD. Miyuu Yamamoto is the only Krazy Bee who can win a fight anymore and she is always victorious over my heart.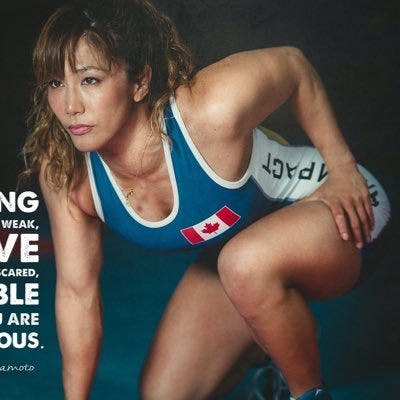 Taiga is now kickboxing Kento Haraguchi, which I don't really have much of an opinion about except for the fact that Taiga just seems like the lovable loser, except he's not that lovable. A minute in, Kento plants Taiga on his ass. And again. And again. Game over.
I'm thinking this next fight is the low-key FoTN but I don't really know why I'm thinking that, so let's just see what Yutaka Saito and Kazumasa Majima have for us. Mikuru Asakura shows up heavily in the pre-fight video so I guess you have to think the winner gets to fight him. He's prominent in the commentary booth as well, so maybe we'll see a call-out after the fight. I'm a little confused about who is who, so I need to check my Kanji names.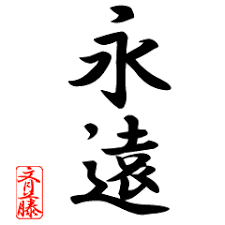 Okay got it, Saito is on the bottom and not much has happened so far. Not a FoTN worthy first round; Mikuru doesn't look impressed. But…
Majima goes for a takedown and Saito soccer kicks him in the face a couple of times and then finishes with knees. Afterwards the respectful callout of Mikuru and the grudging nod of respect from the fighter/Youtuber.
Fullswing likely to get submitted quickly in this next one, but that's why they play the game. Two minutes of feints while Fullswing looks for the big left hand... three minutes... picked up a little in the last minute but not much. Round goes to Yuki Motoya for control. Second round sees some more action with big flurries from Motoya. Motoya hops on the choke in the third to get the win. As expected, just took a little longer.
Time for the main event and the only title match of the weekend. As you may know, this is the title Manel Kape gave up when he left for the UFC. Before that it belonged to Kyoji Horiguchi. Did Kai have the interim for a minute? I can't remember. But it was definitely assumed it was Kai's by default after he beat Kyoji in a non-title fight. I was kind of blasé about this as the final fight of the two shows, but I've been getting excited. I had picked Kai before, but earlier today I started having some second thoughts after watching him get pieced up by Jae Hoon Moon.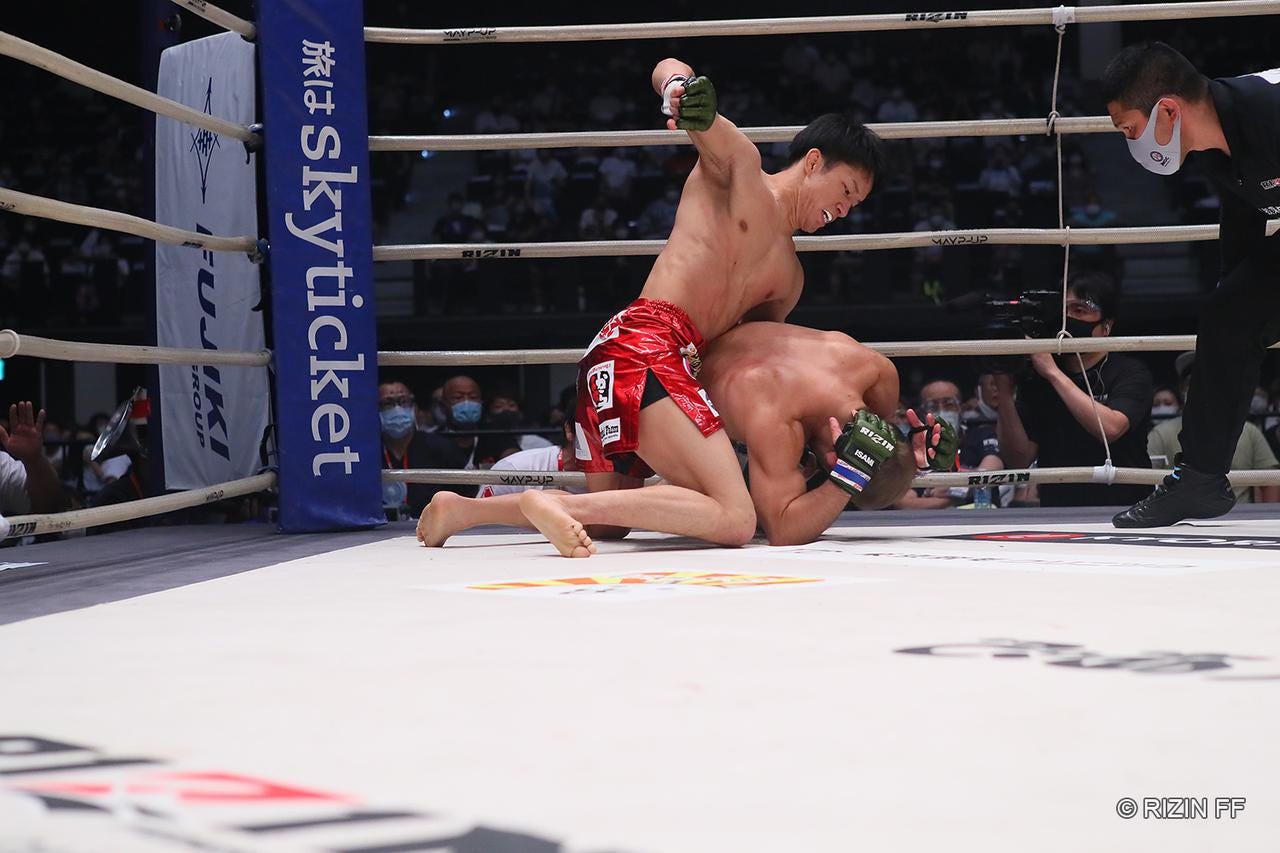 But no, Kai chews up Ougikubo for 4 minutes before the soccer kicks. He was so quick with uppercuts, body shots, really whatever he wanted. Damn. Nicely done Kai. Your RIZIN bantamweight champ to be matched up with Kyoji Horiguchi whenever he's ready. Manel Kape is spot on is his prediction. (I went 5-2 on my picks today, for a not great 11-5 total.)
So that's it for the RIZIN weekend, however I think we can comfortably say RIZIN is back and we are all the better for it. Now if they can just drop the prices a little! It's a fucking pandemic-related economic downturn guys!
This is super long and ate up my whole weekend so that's it until Friday when I'll probably do another ONE Fight Diary as people seemed to respond to the last one. Feel free to leave any requests in the comments or on Twitter. ✌️