RIZIN 22 & 23 Preview
We're back baby!!! But maybe you can't watch... Sorry, that's life.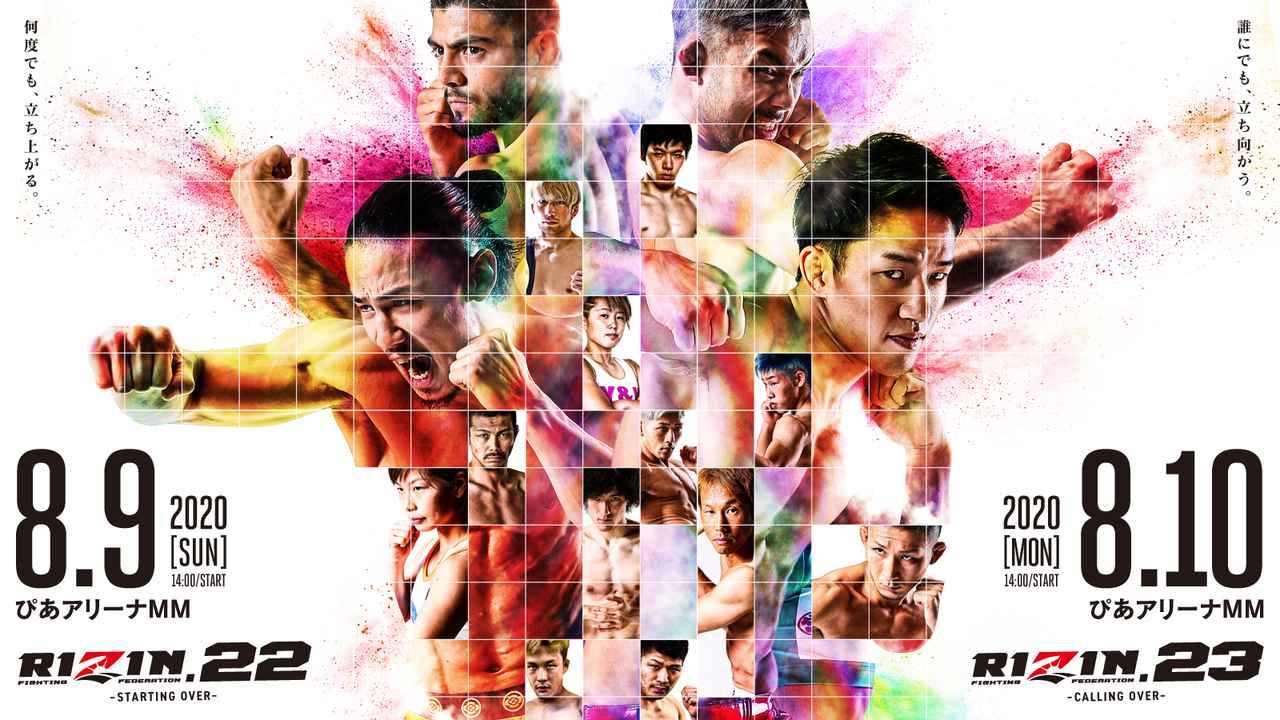 To hell with facts! We need stories!
—Ken Kesey
Phew, I just finished up recording a RIZIN 22 preview show with Andrew and Christian from We Are Rizin podcast. (UPDATE: With the magic of the internet: Here it is!) That's kind of a draining experience, like I have to be careful not to pick my nose or fart or anything. Stressful! Hopefully I didn't sound like a complete idiot. Anyway, I made some notes before the recording that I turned into a quick preview for the card below. I also followed up with some (less-researched) thoughts on RIZIN 23. This will be more 22 than 23 admittedly. I've got a regular job too ya know.
I think it's unlikely I'll get to the shows in person because of money and not really wanting to fuck around with coronavirus, but as of now tickets are still available for both events (though it's mostly premium prices remaining). I said months ago I didn't expect them to sell out their first show back, even at 50% capacity, and it looks like they won't.

Adding insult to pandemic (and economic insecurity), RIZIN decided to substantially increase ticket prices for these events, increase the PPV rate, and not provide any package discount for purchasing both events on TV or in person (as they did for Bellator Japan and RIZIN 20). And of course they also still have the crowdfunding site going. Clearly they're hard up for money, but with these prices and conditions, they're not going to have a (half) full building. And now to beat a dead horse briefly (I wrote about this issue in February referencing RIZIN 21): if they spent just a little money catering to the international audience (through reliable English-language PPV and merch outlets), they would surely make it back a hundredfold.
Alright, this is just depressing, to the RIZIN 22 preview! Picks in bold.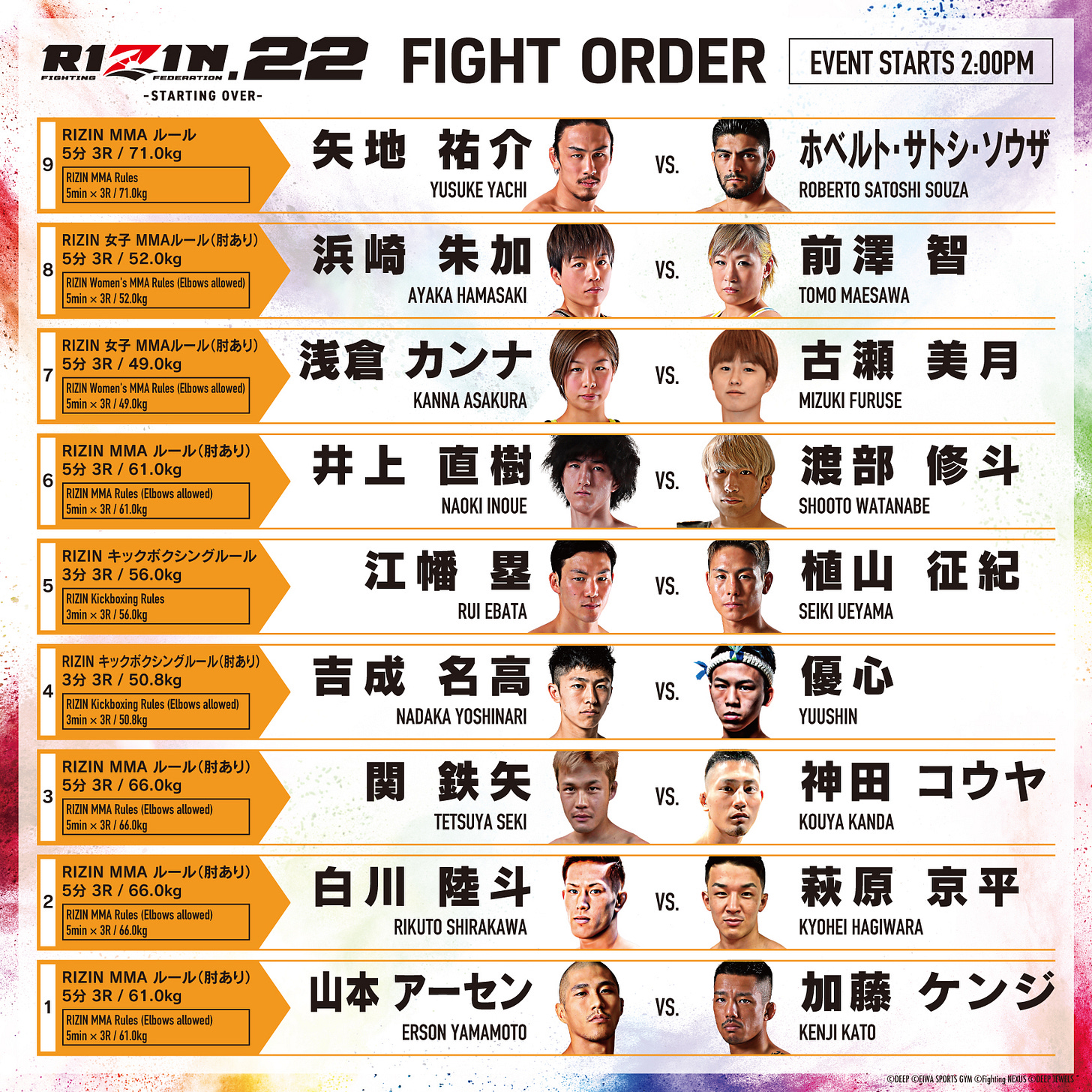 Erson Yamamoto vs. Kenji Kato
Kenji got taken down and choked out by scary-dude Kintaro his last fight, but looked okay on his feet. Erson's here because of his mom and uncle. Meh. I think Erson gets knocked out. Sorry Miyuu! Otanjoubi Omedetou Gozaimasu!
Rikuto Shirakawa vs. Kyohei Hagiwara
Here we have a 7-7 fighter against an 0-2 fighter, whose two fights were a while ago. Seems pretty clear cut. Andrew from We Are Rizin expects it to be a banger.  
Tetsuya Seki vs. Kouya Kanda
I just look at the fact that like all of Kanda's fights (6) have ended in the first round, so I expect a quick one one way or another. Seki hasn't fought in a while and could be rusty but was on a pretty nice run to that point. We Are Rizin guys both like Seki going away. I picked Kanda as my upset (and I'm starting to think I'm probably hugely wrong).
Nadaka Yoshinari vs. Yuushin (Kickboxing)
These guys are like 20-year old strawweight kickboxers so really not my area of expertise, but it appears Yoshinari has way more experience, much of which occured in Thailand, so you have to think he's got this one. We Are Rizin says JKick Twitter thinks Yoshinari's the boss and that this should be a banger. Also, apparently this kickboxing fight has elbows allowed, so it's like half Muay Thai?
Rui Ebata vs. Seiki Ueyama (Kickboxing)
My gut is telling me to go with Ueyama on this one, but my brain says Ebata, who has an accomplished kickboxing career, while Ueyama is mostly a shootboxer. Maybe I just can't get the image out of my head of Ebata getting manhandled by Tenshin Nasakawa at RIZIN 20. This could be another upset pick, but I picked Ebata on the podcast so I'll stick with it.
Naoki Inoue vs. Shuto Watanabe
Inoue has fought in the UFC and RIZIN a couple of times, while Watanabe has a lot of wins in smaller promotions. Both have a heavy majority of submission victories on their records. Should be a fun one (or a bad kickboxing fight). Though in the latter case, Inoue holds the advantage.
Kanna Asakura vs. Mizuki Furuse
As I shared on the We Are Rizin show, I've never thought much of Kanna before her last fight at Bellator Japan. However, it seemed like her break-up with Tenshin imbued her with some much-needed spirit. Before that, she got easily wrestled into dirt by Miyuu Yamamoto and should have lost against a fighter RIZIN brought in expressly for her to beat. This is what is happening again here, but this time I expect her to get the win without too much trouble.
It just occurred to me the fight I want to see for Kanna Asakura is Stamp Fairtex. RIZIN vs ONE WMMA please! Hamasaki or Hamderlei can take on Angela Lee. (If you missed this past weekend's ONE No Surrender Fight Diary, check that out. It was a fun show with less of ONE's normal nonsense.) 
Ayaka Hamasaki vs. Tomo Maesawa
On the podcast I reminisced about Jason Herzog throwing Seo Hee Ham across the ring as she demolished Tomo. Look for something similar, but this time in submission form.
Yusuke Yachi vs. Roberto Satoshi Souza
So I like both of these fighters personally and I was initially sort of disappointed to see them matched up together. I like Souza because his Japanese is not great even though he's lived in Japan for a long time - this makes me feel better about my crappy Japanese. I like Yachi because he's sort of a down on his luck underdog who does dumb shit from time to time. Basically I can relate to both guys in ways having nothing to do with fighting. Fighting-wise, I was surprised to see people are picking Souza in this fight, as I would think it would be Yachi going away. I guess the fight could really be interesting depending on how much grappling Souza goes for. It's definitely my most anticipated bout of the card. We'll see how it plays out.
Next up, RIZIN 23.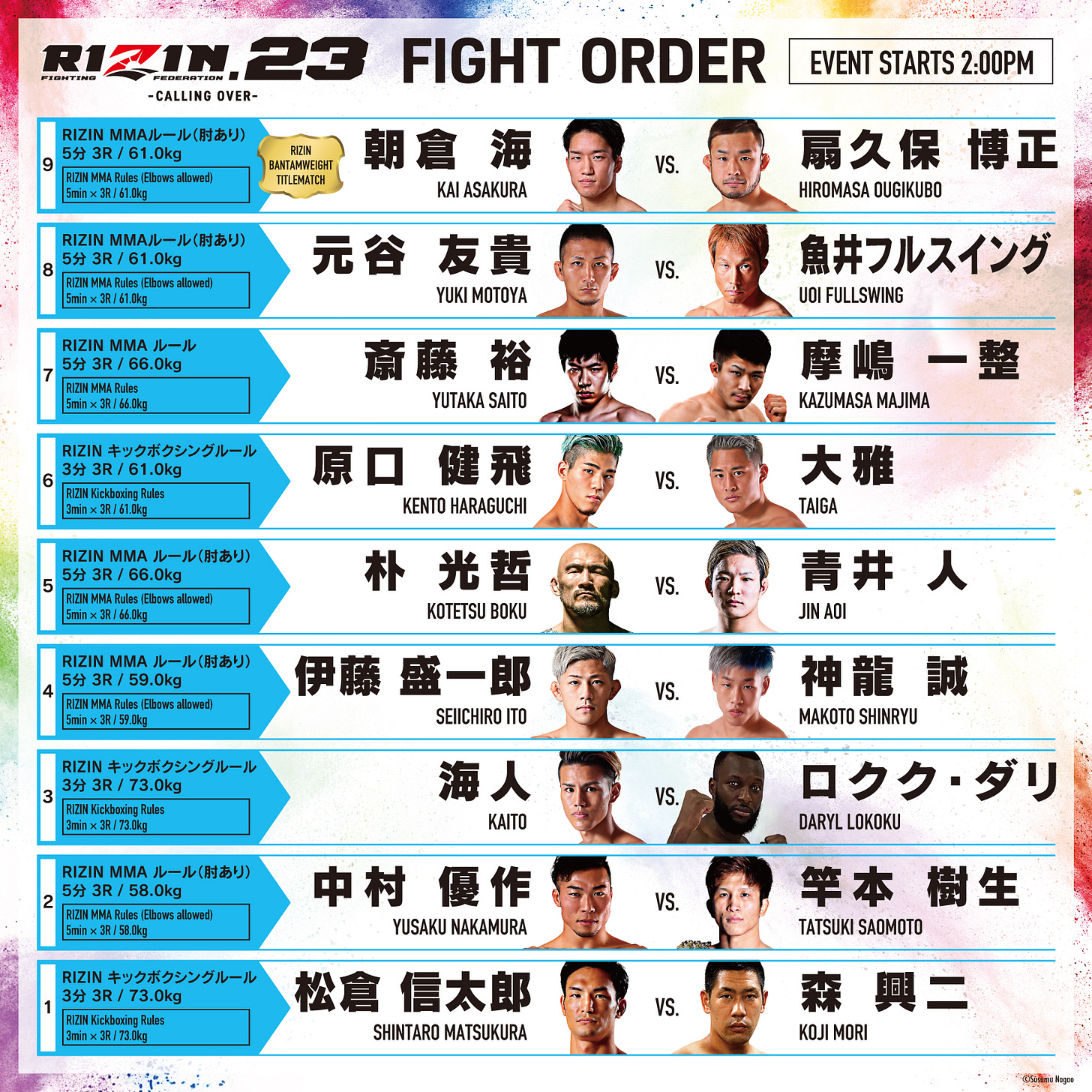 Shintaro Matsukura vs. Koji Mori / Kaito vs. Daryl Lokoku (Kickboxing)
Two of the first three fights are 73 kg kickboxing bouts I don't know much of anything about other than that they're relatively big boys and can likely provide some heat. I don't feel like looking them all up on youtube either. No picks. Enjoy.
Yusaku Nakamura vs. Tatsuki Saomoto
Nakamura is up against the young, hyped dynamo here, but I'll pick the vet for… reasons.
Seiichiro Ito vs. Makoto Shinryu
These two are fighting at a catchweight between flyweight and bantamweight; Ito hasn't fought in a long while, and Shinryu picked up some nice wins in 2019 including over the man I picked above in a fight I saw live at Bellator Japan.
Kotetsu Boku vs. Jin Aoi
No Face Boku, the 43-year-old, super-grizzled vet and Killer Bee scion goes up against the fresh-faced youngster, who by the look of his recent record, is being fed to the old man. Or maybe I have that reversed. Somebody's being fed to somebody in any case.
Kento Haraguchi vs. Taiga (Kickboxing)
Taiga, Taiga burning bright, In the forests of the night; What immortal hand or eye could frame thy fearful symmetry!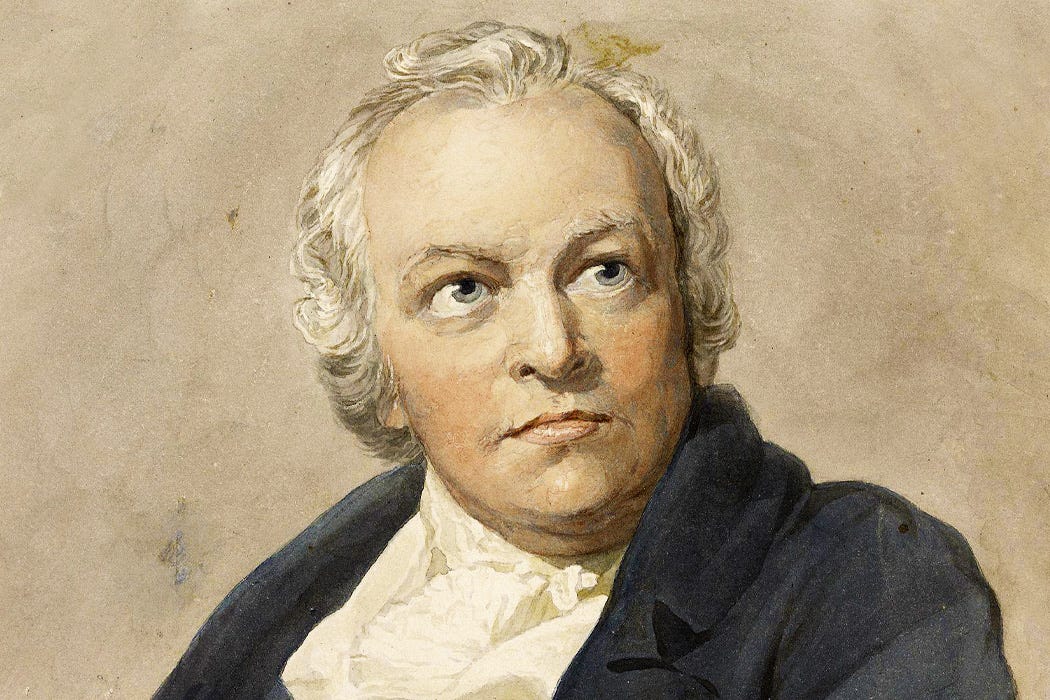 Yutaka Saito vs. Kazumasa Majima
This one sets up to be a possible FOTN; on recent form the nod goes to Majima.
Yuki Motoya vs. Uoi Fullswing
Fullswing is fun, but he gets easily outclassed here.
Kai Asakura vs. Hiromasa Ougikubo
The big main event and the only title fight of these two cards, which is sort of anti-climatic for me as Manel Kape just walked away from the belt and there's no Kyoji Horiguchi in the mix. Nonetheless Kai Asakura was a real eye-opener last year after everyone thought big-brother Mikuru was the star of the show. Ougikubo fights are always good. RIZIN would obviously prefer the younger of the dynamic filial duo takes it against Ogi-chan, but given recent karma, who knows.
You can watch otaku (nerd) Kai picking up litter and fucking with some Yankis.
As of now, there is no international TV deal, and I sort of doubt there will be English commentary at all even if they get the broadcast figured out. We can only hope in the next few days RIZIN is able to make some sort of international distribution deal and finds an English speaker who can talk about the fighters. If there's no official feed, I know the We Are Rizin team have volunteered their services (and received a "like" - an endorsement! - from a RIZIN employee).
(UPDATE #2: So, it is as I speculated on the podcast, RIZIN is going to try to run their own platform called RIZIN live to broadcast and sell the show both internationally and domestically… this doesn't seem like a great idea on 3 days notice… and at a higher price than fans are used to.)
(UPDATE #3: Here's the English info on the stream.)
I'm sure I'll be doing a fight diary and you can read up after the fact.
So what do you think of these picks? Any totally stupid? What upsets do you have? How will you watch the event? Leave a comment. Also, please subscribe and share the post. Arigatou! Gambatte!