Fight Retro: Pride Final Conflict 2003
A Champion is Crowned (Spoiler Alert: Dana loses $250,000)
Don't wake me for the end of the world unless it has very good special effects.
― Roger Zelazny, Prince of Chaos
It's come down to this…
You dirty hooker, yeah! You fucked me over, yeah!
Goddamn, I finally had to bust out Shazaam and see what the fuck this wannabe Metallica song is that starts every Pride DVD. Now I think I'm going to have to make a new feature here at Fight Prose… Fight Prose Sings and listen to the whole Mindcandy album. It's going on the list. The things I'm willing to do for my readers. Hi Mom!
To the fights: Pride Final Conflict 2003. (Tournament Part 1) Wanderlei, Rampage, Chuck, (Yoshida). It's November 9, 2003 and we're live from the Tokyo Dome with an announced crowd of over 67,000 for the show - that's just nuts. I've been to the Tokyo Dome and that place is huge. With the baseball field full of seats, I have no doubt that's an authentic number.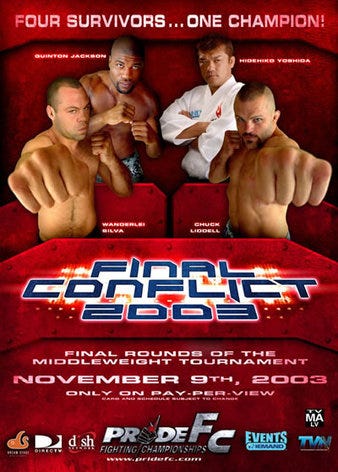 Motherfucker, it's Damon Perry back in commentary again. I've been wondering what to do after this event and I've just now decided that after this show I'm skipping to whenever Damon Perry gets shitcanned. Fuck this guy. (I'm not sure why I'm feeling so hostile, but he's sandwiched between two quality play-by-play guys in Stephen Quadros and Mauro Ranallo and it's like why waste my time listening to him.) Meanwhile, Bas looks like he's getting ready for a hunting trip.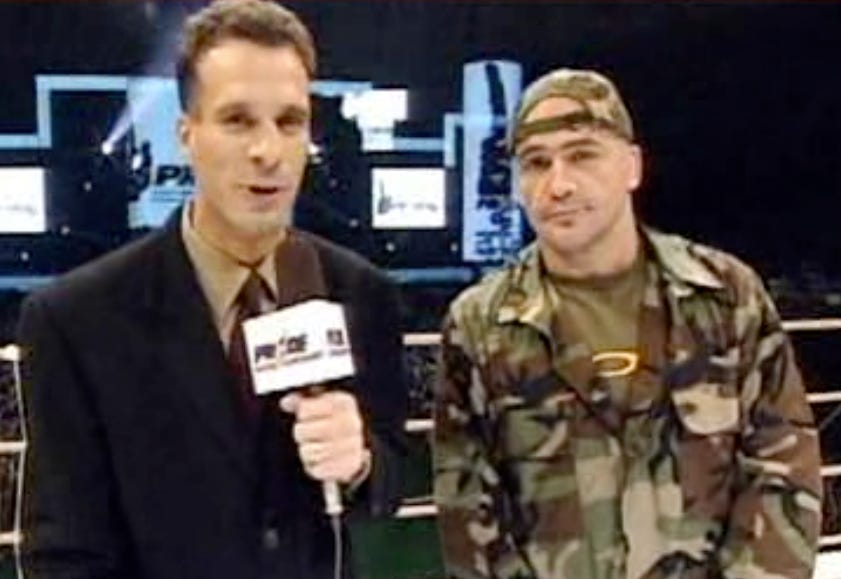 It turns out Bas is showing his support for the (Dutch?) troops in Iraq and he made a weird poster where he's grabbing his nuts, presumably to show his support. For the troops.
Gary Goodridge vs. Dan Bobish
Looks like an open-weight fight for the two old dudes as Bobish is definitely over 300 pounds. Gary got destroyed by Fedor last time out, so let's hope for a better performance from him this time. Eh, eighteen seconds of nothing much as Bobish grabs his eye after a clean left and Big Daddy pounds on him.
Rampage vs. Chuck
Rampage wearing his grill in the intro video and it seems that he's got a new song, which we can add to the terrible songs of Pride compilation with Mindfreak's Uncovered 2k3. The Pakage and Quiton Jackson seem to be missing a couple of letters.
Quinton says he's drinking less and playing fewer video games, so Chuck better watch out. His biggest strength is his strength. Okay. The intro videos tonight are considerably longer than usual and replete with devastatingly high quality graphics (sarcasm) and some new person narrating them, possibly because they know Damon Perry's an idiot. Well, at least we get to see Nerdy Dana, who's also back in the commentary booth.
The fight is limited to two rounds as they are fighting twice tonight. Quinton's looking very slim and has a Sakuraba-esque mask on for his walkout.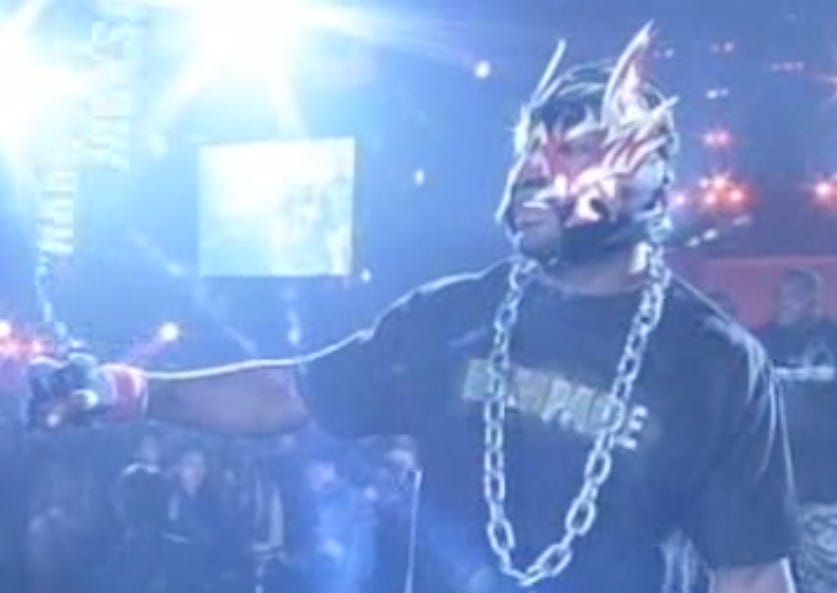 It's jabs back and forth before they start with the serious heavy leather and Chuck is eating big shots from Rampage. Big shots on both sides. In the booth, Dana's being crabby about Chuck not kicking Rampage's legs. Rampage connects and gets the takedown. Quinton connects again and Iceman like a dead man walking, but he makes it to the bell. Good first round. Rampage beating him up in the second, and Chuck's corner throws in the towel as Rampage is pounding him with vicious shots to the body. Helluva fight from Rampage.
As the fight ends, Damon asks what is actually an interesting question of Dana, "What do you want from Pride." And Dana quickly answers, "Sakuraba."
He obviously didn't get Kazushi, reputedly leading to the UFCs reluctance to ever do any co-promotions ever and totally monopolize the sport. Sakakibara-san, you couldn't give up Sakuraba for one fight in Vegas? Instead you had to make this man so bitter and vengeful for the next twenty years.
Wanderlei vs. Yoshida
Yoshida had the surprise win in the first round, but you have to think he's gonna get blown away here against Wanderlei. Really the matchup is borderline unfair, considering the degree of difficulty of Rampage's fight. Yoshida's wearing the gi again, and Bas is talking through the possible advantages. Yoshida gets a takedown early and is running through submission attempts, but Silva surprisingly threatens with a triangle. Yoshida gets out and they restart in the middle. Once again, Yoshida is surprising me with how well he is doing. Wow, he makes it through the first round, and probably even won it.
Silva connects with several big shots to start the second and Yoshida is clearly tough as fuck but backs off to avoid taking more damage. Wanderlei is cautious as he doesn't want to get taken down again, but ultimately wins the round and the fight comfortably. At least Yoshida pushes Silva fifteen minutes so we can see a relatively even matchup fatigue-wise in the final.
Murilo Bustamante vs. Dan Henderson
This is the reserve match, presumably if one of the other winners can't continue; Dan does it within a minute with a knee to the jaw and strikes.
Kevin Randleman vs. Kazushi Sakuraba
In the intro video, Randleman's talking about having a seizure and getting a car accident three months ago. Meanwhile, Sakuraba has just been repeatedly getting his ass kicked in recent events. Sounds like a great idea for these two dudes to fight! Another old guy, UFC champ Randy Couture, is handing out the flowers to start the fight. Boring first round, but minimal brain damage. Second round much the same. In the third round, a Randleman takedown backfires into a Sakuraba armbar submission victory.
Cro-Cop vs. Big Nog
"I don't want to go to the ground and from a standing position I think I'll kill him," says Cro-Cop. Well, that's terrifying. The original fight was supposed to be with Fedor, but he broke a finger, so this is for the interim Pride HW championship while Fedor recovers. See, not only the UFC does this! (It's another 18 months or so before we finally get to see Fedor vs. Cro-Cop in the summer of 2005.) Big Nog gets it to the ground early but Cro-Cop survives and keeps the rest of the round standing while he whacks him with kicks to the body. Cro-Cop is doing the same thing he did to Heath Herring at Pride 26, just dismissively calling Nogueira up off the ground whenever he shoots in and fails to take Mirko to the ground. Big Nog gets kicked in the face and is saved by the bell.
Wow, round two starts with a quick Nogueira take down and he's in full mount G&P. Holy cow, he transitions to an arm bar and gets the tap! Wow! Helluva comeback from the former champ. Fedor pays his respects from ringside.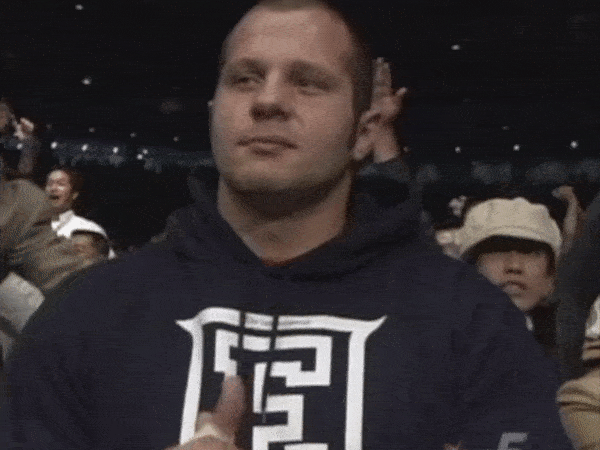 Tournament Final: Wanderlei vs. Rampage
Here we are at the main event of the evening: the final battle of the Middleweight 2003 Pride Grand Prix. You'd expect both fighters would be pretty beat from the first fight, so who knows what we'll see.
Rampage charges into Silva and goes for the slam but Silva gets a choke in and Rampage is forced to set him down. Rampage pounds on him on the ground for about five minutes before the ref stands it up. And Wanderlei just goes off. Wow, that was brutal.
Welcome your new champ, same as the old champ. That was a great fight and that was a great event. Much better than Total Elimination. I can see why this one is on the Best of Pride lists for sure.
Next week it's Pride Bushido 1. We'll welcome the introduction of a new format, and Mauro!