Fight Retro: Pride 2000 Grand Prix Finals
another classic MMA write-along
It's May 1, 2000 in the Tokyo Dome and we're with our ever-trusty team of Bas and Stephen. Alongside those two is another MMA legend Maurice Smith. According to IMDB.com, guitar-legend Eric Clapton is in the audience. Veritable legends everywhere you look in this place. We're over ten minutes into the fifteen-minute first round of the opening match between (legends) Royce Gracie and Kazushi Sakuraba and it's been a pretty back and forth affair. (The first ten minutes are over on Bloody Elbow as a teaser.)
Stephen informs me that the fight is being held with special rules after some hard-edged negotiations from Royce and the Gracie tribe, thus has no time limit and no judges; knowing Royce's past fights, this all concerns me a bit, but it's been entertaining so far. Apparently Sakuraba wore a diaper to the press conference before the fight with the idea that he might well have to take a piss in a no-time-limit fight. There's a Clapton sighting in the crowd and the fight is falling apart as the ref is trying to break up the fighters and pull them out of the corner, but Royce refuses to budge. The ref loses the argument and Papa Gracie strokes his chin meaningfully. Sakuraba doing like a curtsy with Royce's gi, while Royce jams knee after knee into Kazushi's thigh. The commentators opine that the longer this goes whoever wins is likely to drop out rather than face the killers in the next round later this evening. Twenty-five minutes into the fight and some solid strikes being exchanged. Sakuraba still fucking about with the gi and literally trying to pull Royce's pants off at the half hour mark.
At around the forty-minute mark, the guys are throwing some pretty wicked kicks. It's amazing to consider the fight is not even half-way finished… I hate to spoil it, but yes, it went for ninety minutes and I need a diaper. To skip ahead, eventually Sakuraba just did too much damage to Royce and his family in the corner threw in the towel in between the 6th and 7th (15 minute!) round. In a weird way, having reached the end, it's a better fight than it felt like going through it. So begins the Pride 2000 Grand Prix.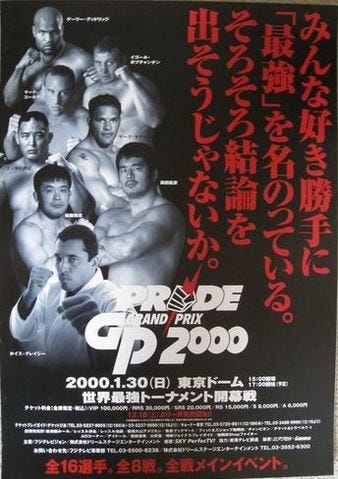 One of the wilder things about watching these old fights is seeing the brawler that is Gary Goodridge (his later cognitive decline is precipitous and tragic). In the next fight of the Grand Prix he is up against the Ukrainian killer Igor Vovchanchyn. These guys are both connecting in the first few minutes and whoever wins is going to have a tough time in the next fight. In the meantime, Maurice is giggling about "blowing his wad." There's a shot to the nuts and we come to a screeching halt. Turns out Igor actually broke Gary's cup with a knee. After the break, Igor is piecing up Gary with combinations, till Gary grabs hold and gets Igor down. Hammerfists both ways. Back on their feet and Igor moonwalks Goodridge. Bas seems to think they could have kept going, but I'm going to say, nah.
Getting ready to watch Mark Coleman kill a man with the generic garage band power chord instrumental. Akira Shoji, Mr. Pride, is staring across the ring, looking decidedly undersized. Coleman is screaming like a maniac that Shoji is cheating by responding to a low blow. Coleman is livid now and mulls gouging out Shoji's eyes. Shoji has a bushel of bloody strawberries tattooed into his ribs, yet somehow survives for a full fifteen minutes to lose the UD. (These fights are one fifteen minute round, unless it's a draw.) Maurice sounding like Chatri talking about the camaraderie and sportsmanship after a fight were Coleman screamed like a bloody banshee that Shoji was a dirty cheating Nipponese.
Got some dope jungle beats in the intro video for Mark Kerr vs. Kazayuki Fujita. Mark's looking a little different these days with the shaved head and the earrings. Just a touch Blue Oyster Bar if I'm honest. Bas moves out of the commentary booth to corner his fighter. Maurice says Kerr's a tough match up for anybody and thinks Fujita doesn't have much of a chance. On a side note, if you haven't seen the Mark Kerr documentary go watch it after you finish reading the rest of this. In the fight, Kerr takes Fujita down quickly and pounds on him for a while, including a couple brutal knees. Fujita survives however and has some decent moments as they both are running out of gas in the long round. As it goes longer, Fujita surprisingly starts to take control. Kerr not looking good, just shelling up on the ground as Fujita pounds on him. Bas screaming from the corner, "Do something Mark, do something!" Kerr survives for the upset UD loss and messes up everybody's bracket.
Much to the surprise of the commentators, Kazushi Sakuraba stays in the competition to go up against Fedor-prototype Igor Vovchanchyn. After cautiously standing for a while, Sakuraba manages to take Igor down. He looks surprisingly fresh considering earlier in the evening he fought for 90 minutes. Scrambles and Igor comes out ahead and is tossing the much lighter Sakuraba around the ring. The audio for this fight is crazy as you can clearly hear both of the guys breathing. Momentum moves back towards Sakuraba and he seems to be coasting looking for a decision until some dramatic violence from Igor turns the fight again. Sakuraba is such a beast to survive to the bell. Judges call it a draw but Sakuraba can't continue. Igor Vovchanchyn moves on to the final and has fought to tough fights to get there.
Kazayuki Fujita comes off his victory to face the other Mark. In a super weird moment, the towel is thrown in in the first moment. They really, really should have done that before the fight. Feeds some of the anti-competitive narrative of these fights. Ah well, that's Pride. Now it's time for the final as Mark Coleman faces Igor Vovchanchyn for the Pride 2000 Grand Prix. Mark's had the much easier road to get here.
Both men look fairly fresh to start the fight, though Coleman certainly had the easier path to the final. After some initial dancing, Coleman takes him down and doesn't get off for ten plus minutes. Neither are fresh entering the second round. After a few seconds and we're right back where we ended the last round. Coleman eventually gets Igor into a position to just annihilate him with knees to the head and Igor frantically taps. Coleman celebrates like a madman. He is the Pride 2000 Grand Prix champion. The final fight is certainly no classic, but it's been a great event with some great fights and some legendary fighters. Two big thumbs up.
Next time out for Fight Prose, I'd like to try something different and will be doing a write up of the 2005 Mirko Cro-Cop vehicle Ultimate Force. Look for that next week or sign up for the substack and get an email about it.