Fight Retro: Pride 17: Championship Chaos
A taste of Pride amidst the UFC's Corona buffet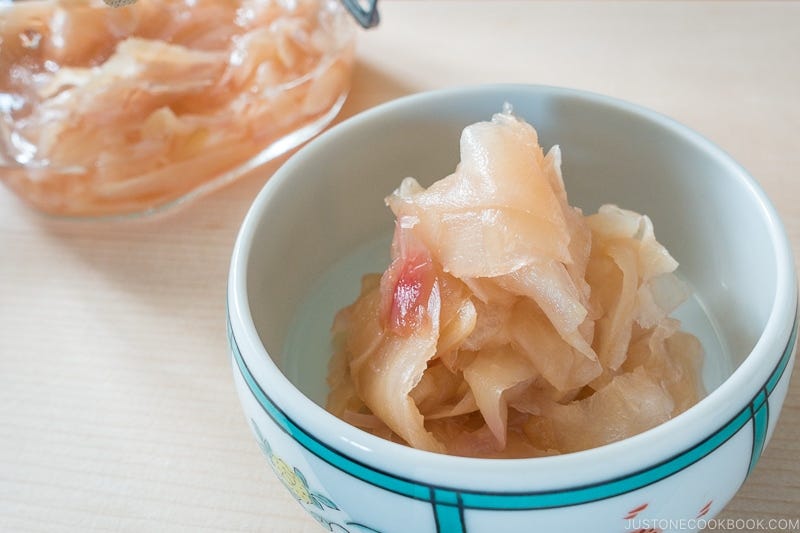 Through the machineries of greed, pettiness, and the abuse of power, love occurs.
― Thomas Pynchon, Gravity's Rainbow
Rampage Jackson is working behind the counter at the Tokyo Dome souvenir shop. He grimaces, snarls, and shakes down the hapless tourists Stephen and Bas, who are coming in to buy new waifu pillows. They somehow keep their cool, and despite being mugged by Quinton, disco-strut out into the open air with two briefcases, each holding a gleaming new Pride FC belt. Welcome to Championship Chaos.
In the arena, the bells are tolling. Lenne Hardt chimes, "Pray for peace. Pray for life." I got the chills, or maybe I need to close a window. Flag-draped warriors in the ring, but not in boxes. With all the dignity and mutual respect, I feel like I'm in Singapore eating chicken rice with my man Chatri. Of the combatants Sakuraba gets the biggest pop, natch. But Wanderlei gets a healthy serving too. These people are out for fucking blood. The Tokyo Dome is full of 50,000 cannibals.
After the skits, Rampage is thrown against pro-wrestler Yuki Ishikawa and we are predicting a sacrifice to the WOLF GOD, though Ishikawa's a big boy. Rampage's got the Apollo Creed boxing trunks on. Flurry of uppercuts and a Rampage body slam and he's trying a pile driver! Quinton with the walk-off after a crazy two minutes.
Dan Henderson has a better speaking manner at this stage of his career. He sounds like a mellow Information Technology professional, "did you try restarting?" Murilo "Ninja" Rua is Shogun's older brother. It's a wild up and down with guard-pulls and Dan Henderson looking super athletic. But Ninja in side-control is doing some damage and keeping Hendo contained for the long round. Rua kicks Dan in the head at the bell and the second is more of the same. "C'mon Danny!" they're screaming from the corner. It's like the All-Valley tournament all over again. Despite a last-minute flurry Dan should lose the decision, but fuck, pulls out the split decision victory. In the early battle of American legends Rampage gets the style points by far. Oh say can you see…
Semmy Schilt vs. Masaaki Satake and this must be kickboxing. I sure hope so. I like Satake but he sucks at MMA. And it's MMA, fuck.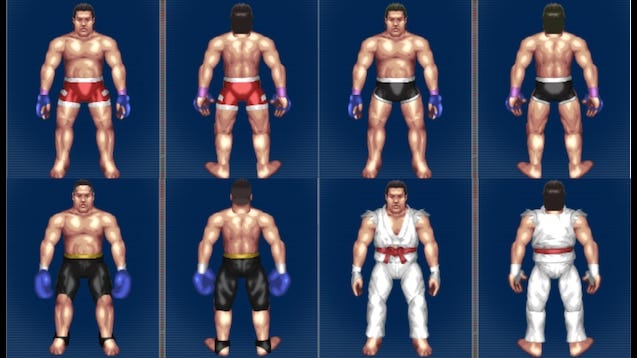 Renzo Gracie will probably fight some scrub now. Royce is in the corner. You can't keep Royce in the corner. Michiyoshi Ohara is the victim and his corner's wearing executioner masks. Action! Action! Action! Yes, please. Renzo is sparring. Action! Number 4. Card these motherfuckers. Action! Number 5. A few more Actions! but I'm not really paying attention anymore. Stephen is talking about 9-11 now which is kind of weird and I remember the burning buildings and the weeks-long smell of burning plastic in the Lower East Side and if I have cancer, that's surely the cause.
My favorite baby-Fedor Igor Vovchanchyn is getting eaten up by Stephen in the intro. He fights Mario Sperry who I don't know but looks like a tough dude. Igor is my favorite chisel-jawed Ukranian motherfucker. He be making Facebook memes for Trump all goddamned day. More mouthpieces on the floor in this goddamn event. Mouthpiece belongs in your mouth, gentlemen. Igor all bloody from the tooth mark on his head and I'm wondering where Rampage went. Mario submits him, fuck.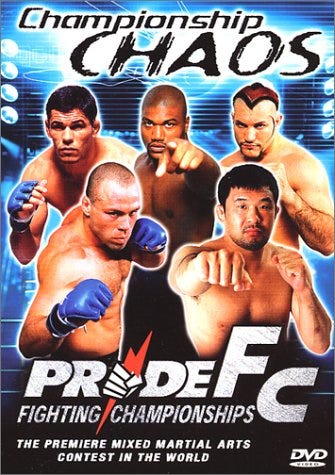 Tom Erikson and Matt Skelton look like they work at rival Best Buys. There gonna be some fucked up shit in the stereo aisle. Big Daddy and Mark Coleman are in Erikson's corner. Apparently, homeboy is weighing in at 290. Erikson gets the takedown and Skelton is probably fucked. Yup.
Heath Herring's got some kind of fucked-up future gladiator haircut. Big Nog looks 45 and he's 23 or something. Mark Coleman makes his way to the commentary booth and sounds like a man walking in the graveyard. The fight is some wild shit for heavyweights, sloppy and skilled both. I feel like both these guys could beat many current UFC heavyweights, even with a 20-year old skill set. Heath is athletic and game as fuck, but Rodrigo got hands, grappling, and submissions.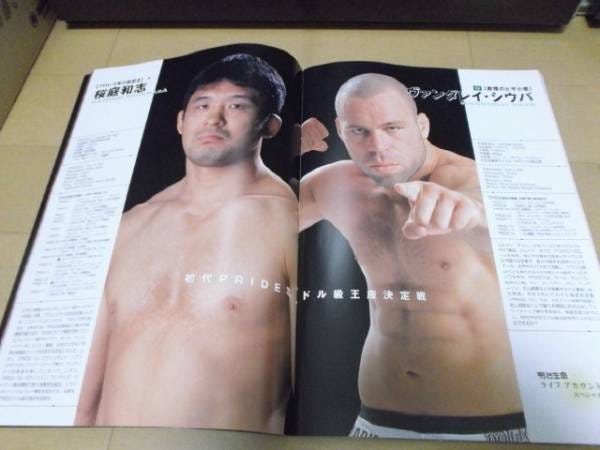 For the main event, it's Kazushi Sakuraba vs. Wanderlei Silva 2. I would really not be keen to be anywhere near Wanderlei Silva, much less in a ring in the middle of the Tokyo Dome, much less for the second time. The crowd is going wild. Sakuraba catches Wandelei's first kick and takes him down. Wanderlei's up and moving like a speed freak and grinning like a goon. Wanderlei's doing damage, but Sakuraba's like lightning. Then Sakuraba busts his shoulder and it's done.