Not a RIZIN 24 Fight Diary
Sumo Sunday, Fuji TV, and whatever else I can watch for free
"Cheap is the love that has a price."
― Unknown
I decided not to pay for RIZIN 24 because it's too expensive, not a particularly interesting card to me, and the main and co-main at least are on free TV in Japan. But I did make the voyage to the RIZIN office in Roppongi and buy a hat as I suggested in my preview. Nobody was home when I arrived but the guy showed up eventually and took my money. 😁🧢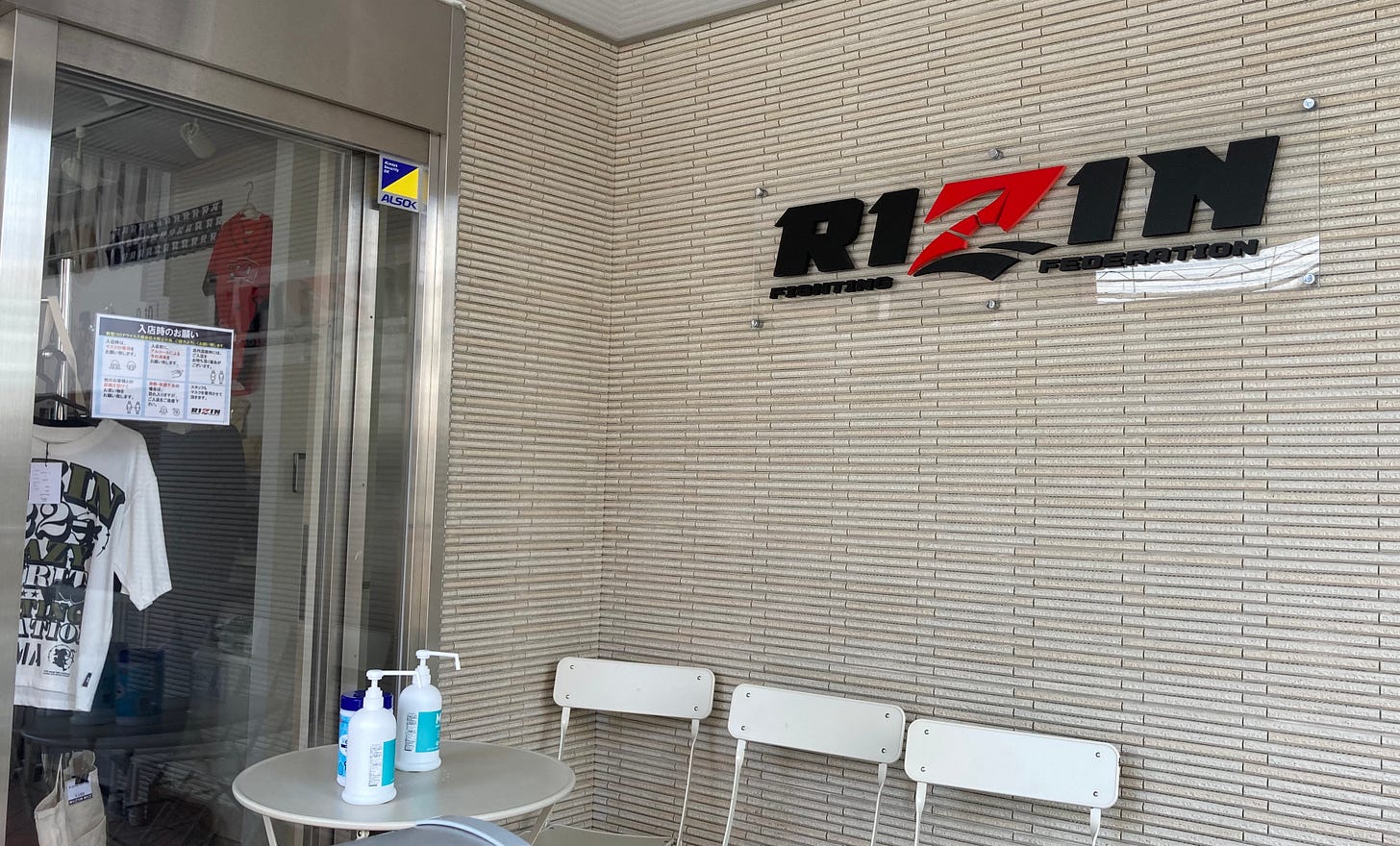 I'm also not so troubled to watch the entire card live because there's Pancrase free on youtube (with English commentary), the final day of a close and exciting Sumo tournament (I attended Day 11), and my Tokyo Yakult Swallows vs. the Hanshin Tigers, which is coincidentally what's preempting the RIZIN show in the Kansai region (Osaka) and caused a bit of a fuss with Kouzi. Anyway, I've got plenty to keep me occupied. (I've not even mentioned the big UFC card.)
A man who has definitely never been involved with anything illegal RIZIN CEO Nobuyuki Sakakibara has also gone on the Twitter warpath lately about piracy. It looks like he deleted the one I responded to, but later re-posted his lawyer's promise to sue RIZIN fans for watching illegal videos. Not only posting, but also watching. I have no idea of the legality of that in Japan, but I do know they can throw your ass in jail for a month with no charge, so I'm not really interested in finding out.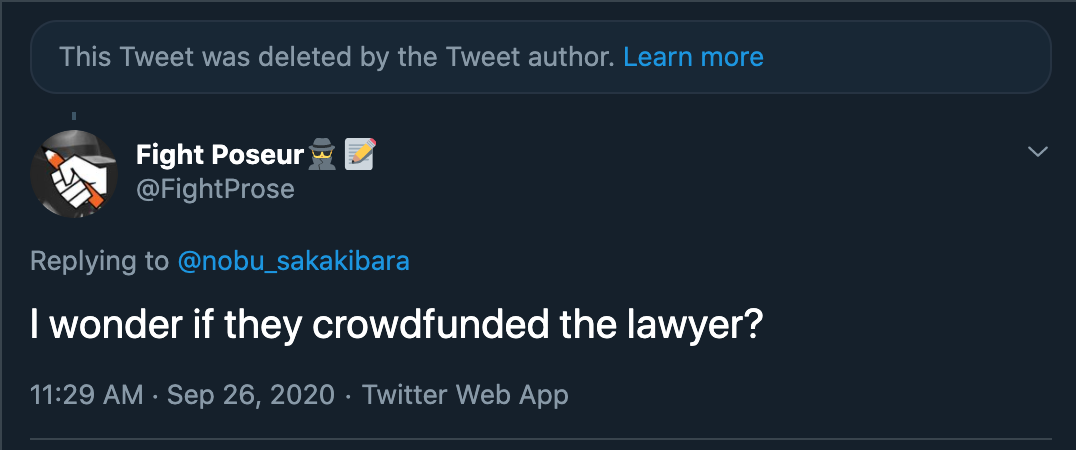 Anyway, I'm not super impressed with a guy who raised a ton of cash crowdfunding his last three shows then raises prices, offers an inferior, overpriced PPV product, and threatens to sue the fans who donated money to keep him in business. But I like my new RIZIN hat, and I'll watch the fights whenever they legally go up on youtube. On an unrelated note, I've received like 15 emails from RIZIN in the last 3 days encouraging me to purchase this card. 🤷‍♀️
I did just find this however.
So for me it's looking like 2 RIZIN fights, makuuchi (top) division of sumo, some baseball and dinner, then the Fuji TV RIZIN show. See you then…
Some pretty terrible thing is going on over on Pancrase youtube between a 50-year old and a heavily-tattooed, though very timid, youngster. Multiple yellow cards shown. Bad music in between rounds as well. RIZIN should be starting in about ten minutes and now it seems we will get three free fights, so maybe I get to see my sumo guy Sudario Tsuyoshi AKA Takanofuji live after all.
Speaking of which, they're handing out awards to the lower division sumo winners right now and the top division action will be starting shortly. Shodai can clinch the tournament with a victory, but if he loses things get interesting and we could see a playoff with a couple of top guys. It's a busy Sunday afternoon "Not RIZIN 24 Fight Diary!"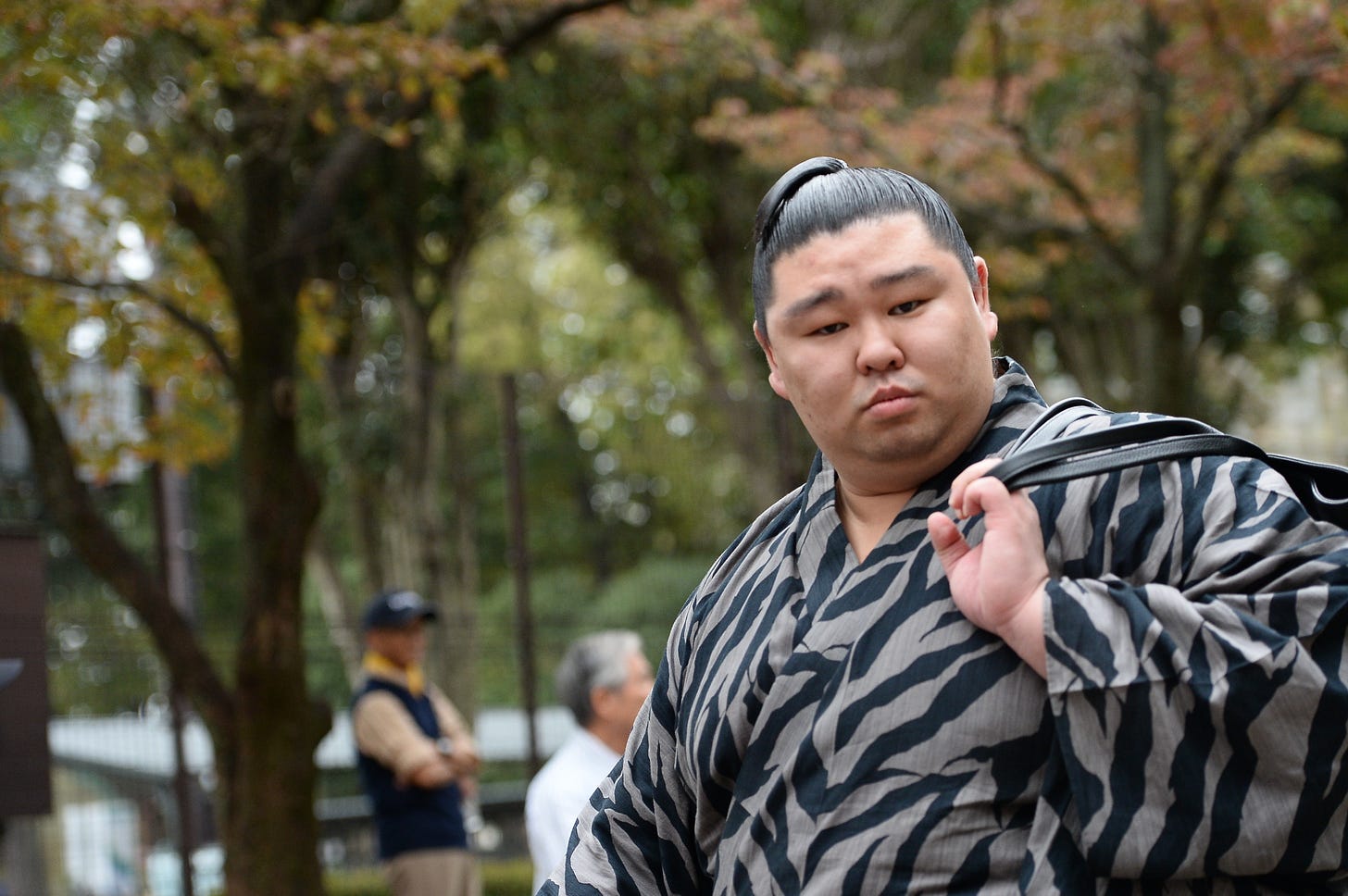 And we're off at RIZIN 24! Intros are awesome as usual and we're quickly into Yusuke Yachi vs. Juri Ohara. Yachi is being set up for a big victory here after getting crushed by Satoshi Souza in his last fight, so let's hope he gets it. Juri looking super nervous walking in, like a lamb to the slaughter, which is exactly what he is. Yachi enters with a little Enter the Dragon Bruce Lee clip and looks loose as usual. Over in the sumo, Ichinojo just got his kachi-koshi (more wins than losses), which is awesome because he's been struggling for a while now and just got back to the top division.
Holy shit. That was unexpected. After spamming kicks for the first couple of minutes, Yachi gets split open by Ohara and left a bloody mess until he is saved by the bell. Had the fighters been reversed, I think it is likely we would have seen a stoppage. Yachi comes back for a decent second, but loses the third and the fight. Time for Yusuke to reevaluate some things. That was a bad loss and one that RIZIN was surely not expecting. Personally I think he should fight Diego Sanchez. 160 pound catchweight, NYE, make it happen Shingo.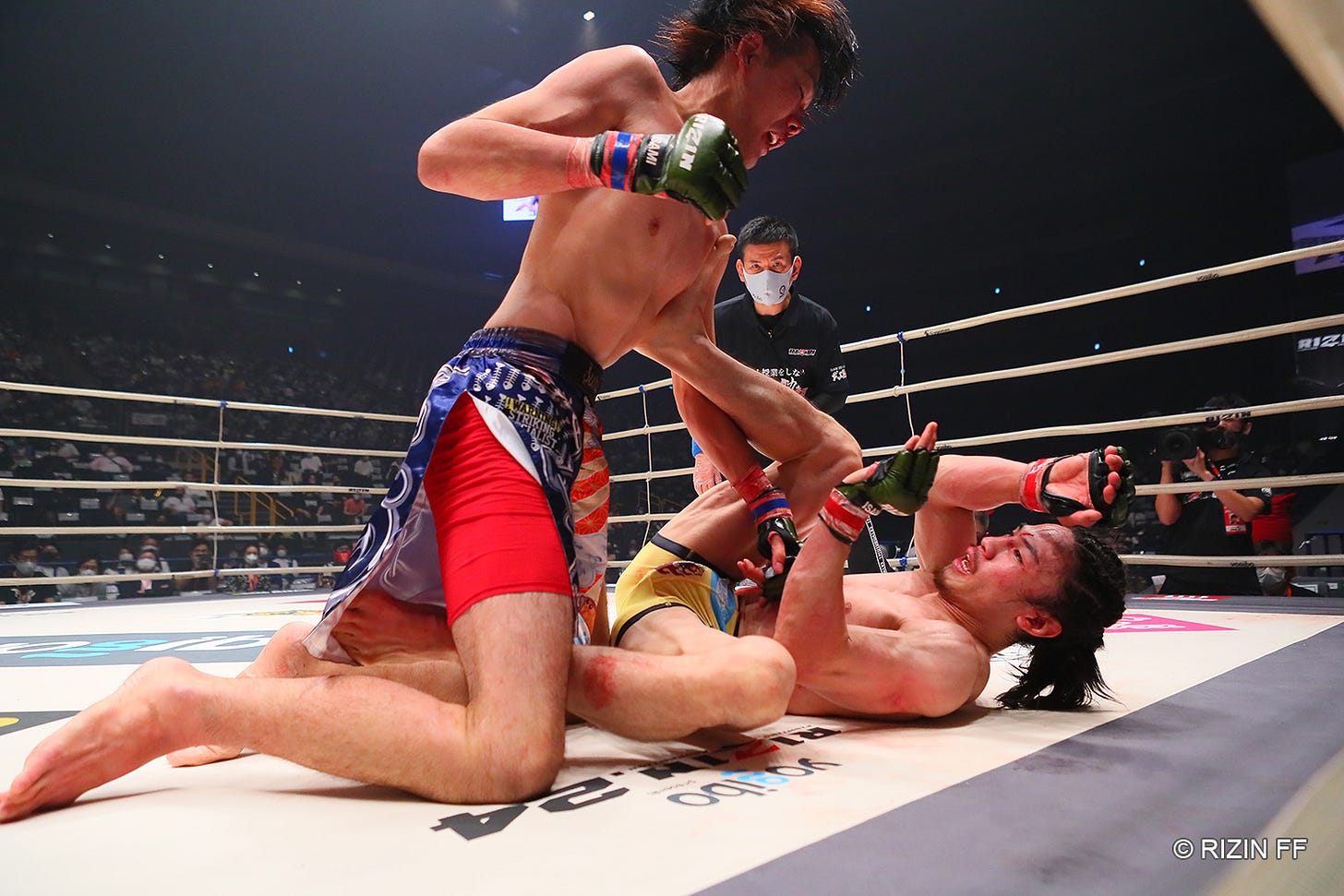 Next up is Mutsuki Ebata (Rui's brother) vs. RASTA? in a kickboxing match. Ebata puts RASTA down twice in the first and the fight would have been over had the round been thirty seconds longer as RASTA was out of it. I didn't really pay attention to the second but RASTA survives and seems to be doing okay in the third, though not in any position to actually win the fight.
Alright, this is one I've been excited about. It could be terrible, it could be awesome (but probably not), but we just don't know what the fuck is going to happen. I don't know anything about this Dylan James guy, but he seems intense. I did watch Tsuyoshi in sumo and he was pretty good. Mostly he's young, athletic, huge, and I'm curious to see if his skills translate over at all. This is some old school MMA shit and I'm into it! And the stream cuts out….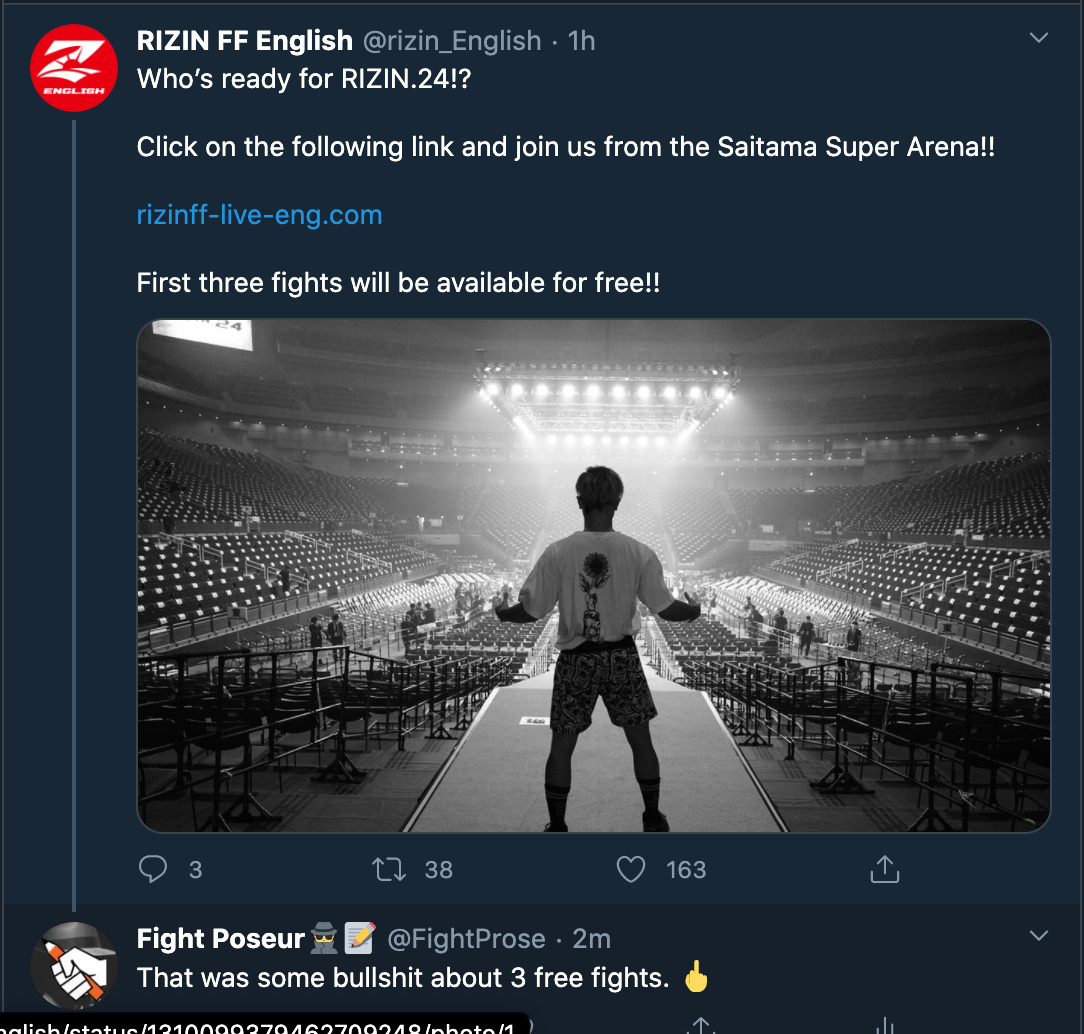 I'm gonna go watch the sumo.
Damn, Shodai just won outright and killed the possible playoff, but his victory was high quality with some really slick escapes. Very impressive way to win the tournament. He may be elevated to the next higher rank before the November tournament. They're doing the victory presentation now with the national anthems and trophies and stuff. Check out his victory recorded off my TV. No sound cause I shrieked like a schoolgirl.
Meanwhile, over on RIZIN, I gather from Twitter that RENA is having a boring fight. I'll rejoin when the FujiTV show starts in a couple hours. Some of that time will probably be intermission anyway.
(A couple hours later) Coincidentally RENA is first up on FujiTV in a fight we are fairly sure is a boring 3-round decision win. Weird choice. Maybe they'll edit it down or something. Nope, they show the whole thing and then some fluff about Tenshin and a wild commercial for some new Pokemon game that looks pretty cool.
And we're finally through with a million commercials and Kai's waiting to make the walk to the ring, but not before we see him dressed like an otaku and shadowboxing for the 500th time. Now some clips of Dad, I mean Shoji. Fuck, just when Shoji is doing a cool samurai walkout they cut to more commercials.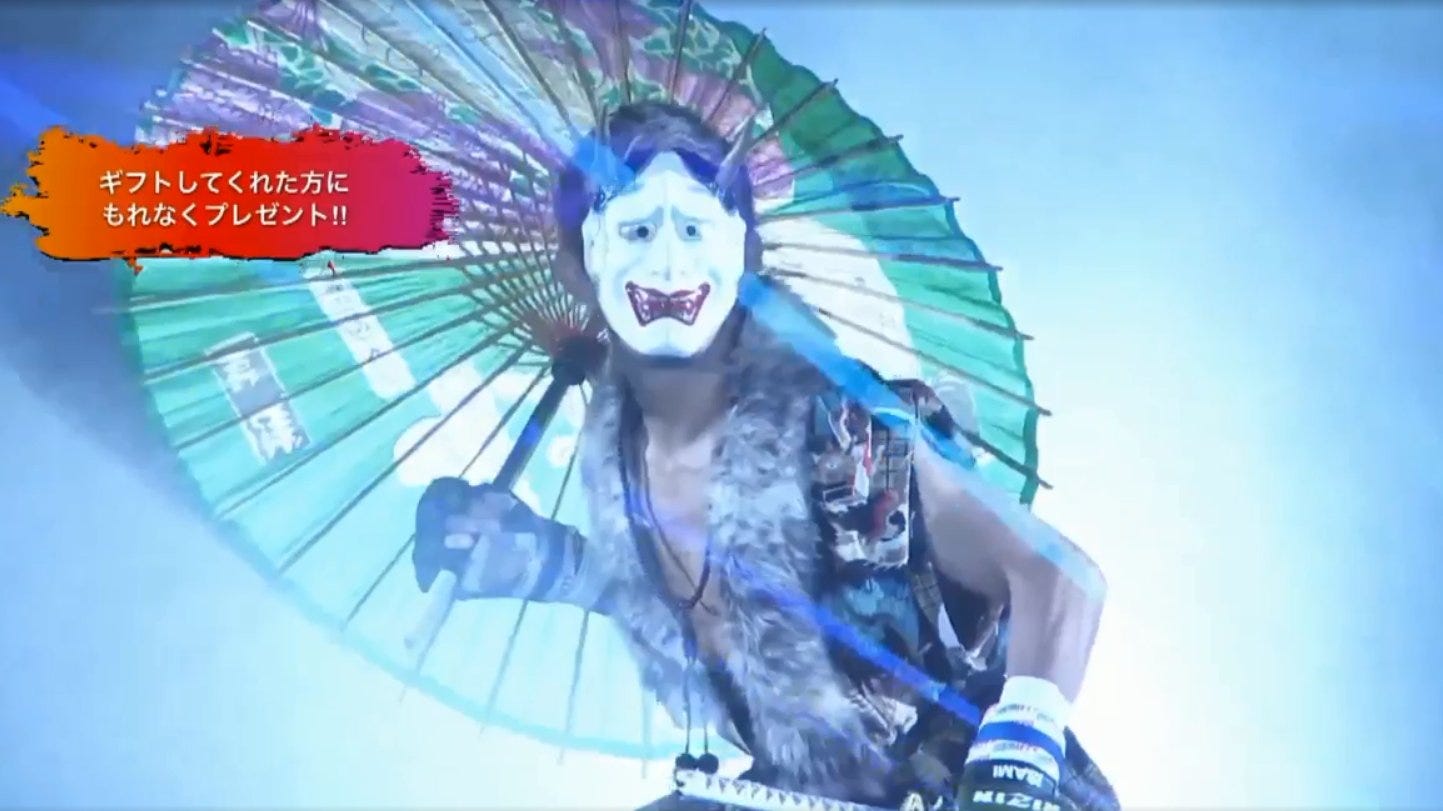 Alright, finally we're here. Huge chance for Kai to fuck everything up for RIZIN by losing a fight he didn't want and took on ten days notice. Let's just see what happens.
I'm feeling a little nervous, but there's no need as Kai finishes him off within a few minutes by putting him down with a straight right followed by a knee to the head and the ref steps in. Shoji is pissed, but Kai would've likely finished him easily at that point. I keep seeing people refer to this a soccer kick finish, which it really wasn't. More of a grounded knee. Tomayto Tomahto.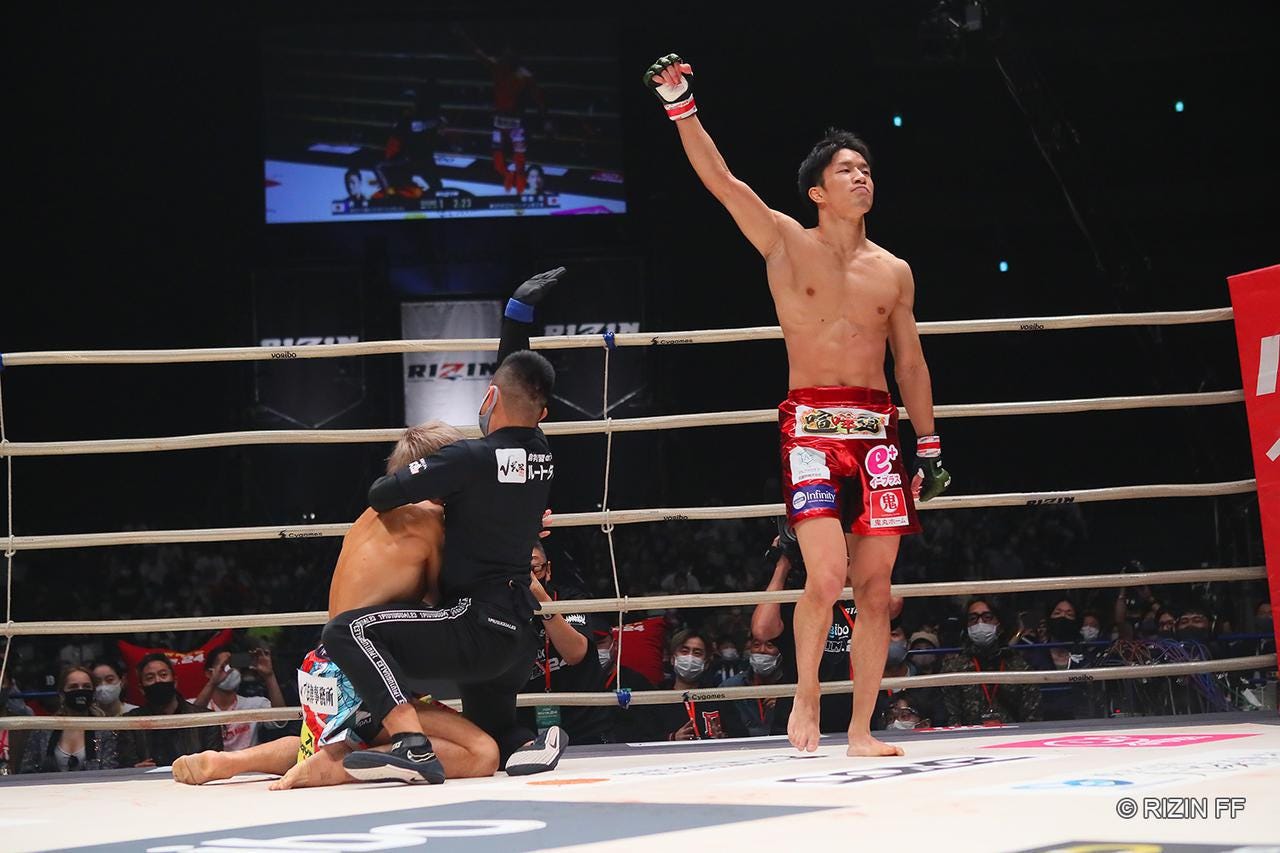 On to the main event. I admit to liking Tenshin's obnoxious walkouts - the song has a bit of the Shinya Aoki Baka Survivor vibe. How many minutes does this one go? I'll say four.
This fight is already ugly after a round. It appears Kouzi's antics in the buildup legitimately pissed Tenshin off. Tenshin is bullying Kouzi and the latter is just standing there taking it. He makes it to my four minute mark and in fact makes it all nine, but he hits Tenshin like literally one or two times. The third round was probably Kouzi's best, and Tenshin looked annoyed he couldn't get him out, but Kouzi was certainly no threat.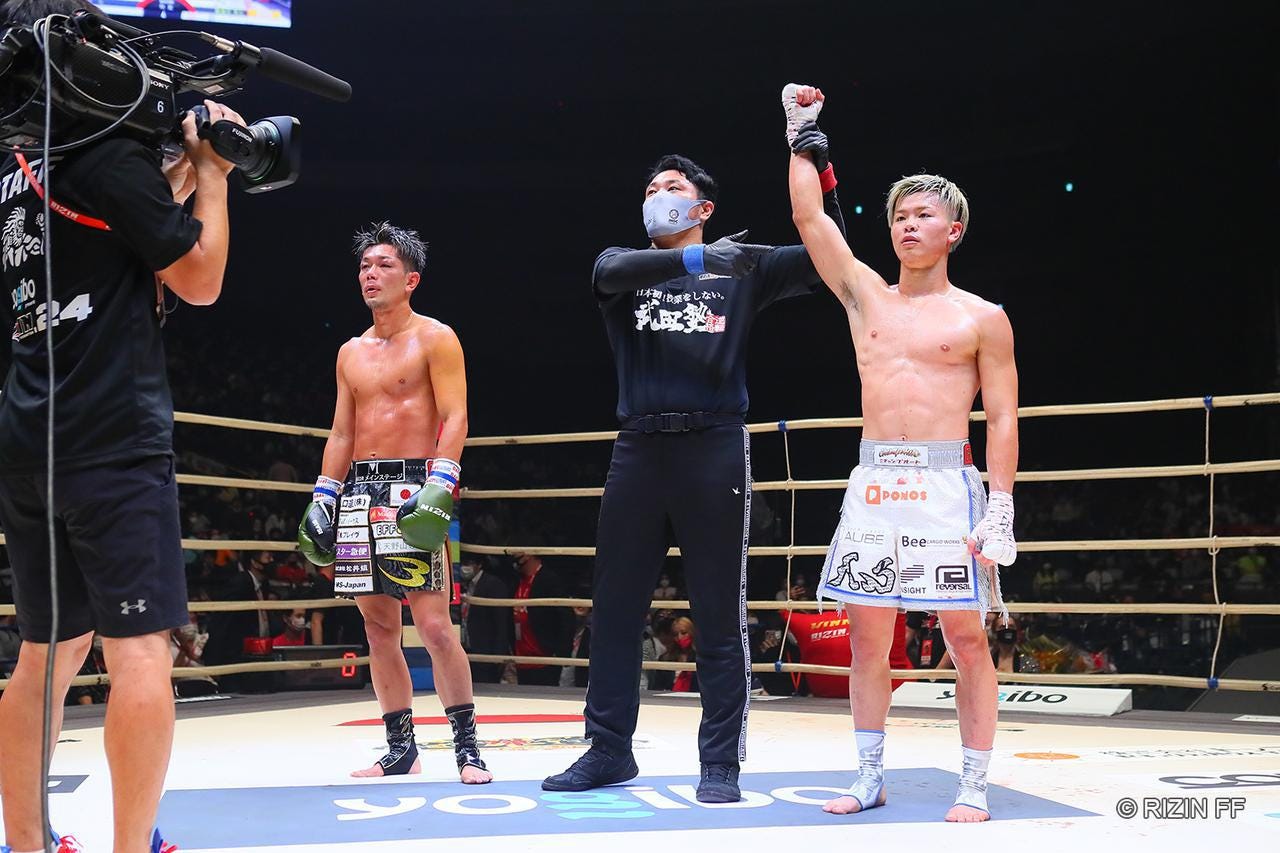 For the final bit of the FujiTV broadcast we're stepping back to the Sudario Tsuyoshi vs. Dylan James fight that got so rudely cut off for me earlier so I'm happy. Some slow and rather labored eyes-closed punches, but not abjectly terrible, followed by some wicked grounded knees get him the victory. Helluva debut my man! Look forward to seeing you again on NYE.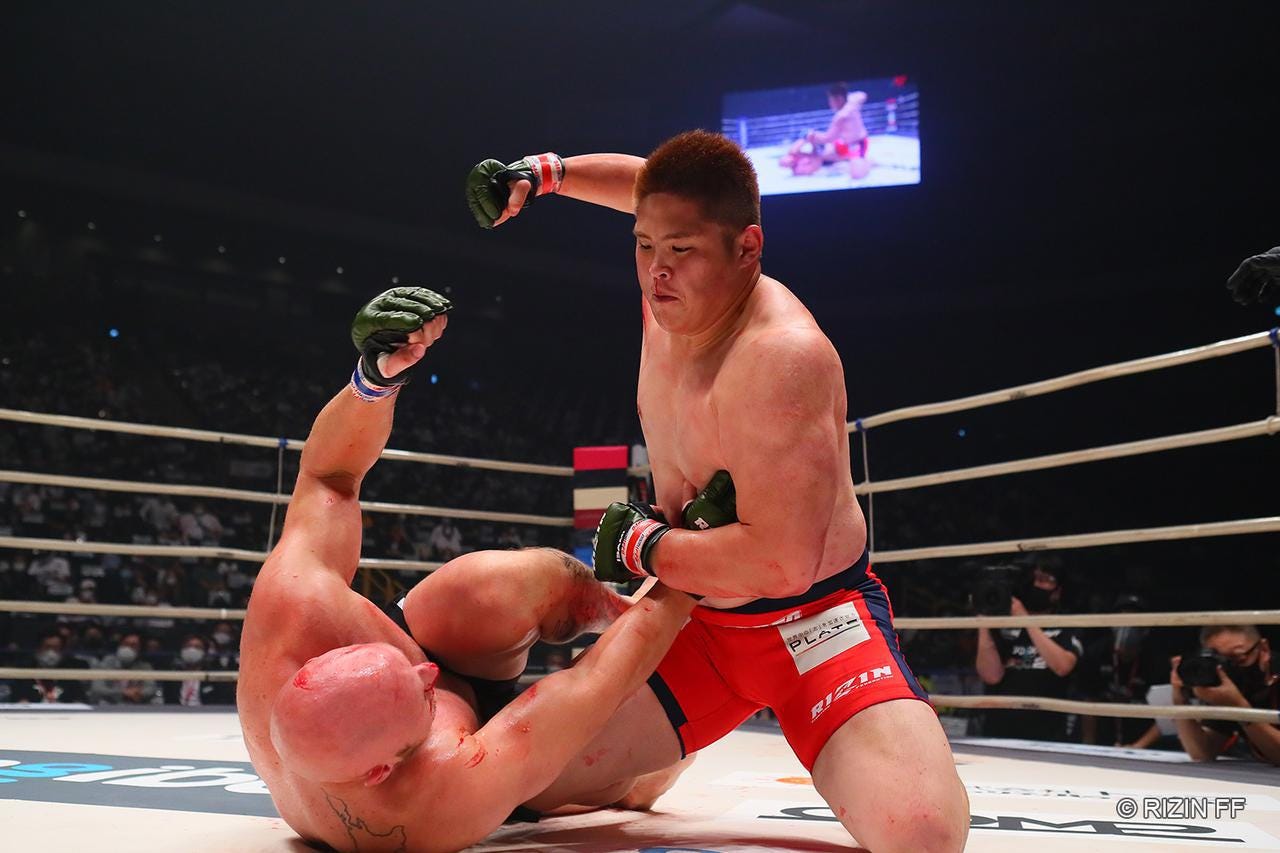 And that does it for my "Not RIZIN 24 Fight Diary" - hope you enjoyed it. As for the card, does it surpass my preview score of "Mostly 💩?" Well, it certainly wasn't the quality of RIZIN 23, or even 22 I'd argue. Yachi's loss was unexpected. Tsuyoshi did well for himself. The main events went as predicted. In the end, I'll just call it "Mostly."